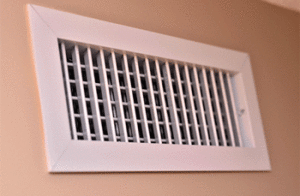 A lot of humidity gets added to your indoor air from daily activities like showering and bathing. If you don't have adequate bathroom ventilation, that excess moisture creates a hospitable environment for mold and mildew, degrades your air quality, overworks your cooling equipment and increases your energy bills. Here are some helpful tips on how to use ventilation to avoid these problems.
Install Bathroom Fans With Sufficient Capacity
To clear out humid air from an average size bathroom you need fan capacity of one CFM per square foot of floor space. For bathrooms over 100 square feet in size, add 50 CFM extra per bathtub, shower or toilet, and 100 CFM for a jetted tub. Once you know the total capacity needed, you can install multiple fans or one powerful unit.
Duct Fans Correctly
A bathroom ventilation fan needs to be ducted outdoors, not up through the ceiling between the joists or into the attic space. Sending warm, moisture-laden air up into these unfinished spaces can result in mold growth and structural decay that may not get noticed right away.
Install Fans in the Right Locations
Locating fans correctly in the bathroom is vital for proper ventilation. If you have a single fan, place it near the bathtub or shower enclosure, and well away from the HVAC supply vent. If your bathroom has a separate toilet area, install a fan there as well. You also need to undercut the door so that ample replacement air can be pulled in from outside the bathroom.
Look for Convenient Fan Features
A fan should run for 15 to 20 minutes after every bathroom use, and there are models available that make this easy to accomplish. You can choose a unit equipped with a motion sensor to start up the fan whenever the bathroom door opens, and a timer that turns it off automatically. Some fans have built-in humidity sensors that start ventilating when there's a certain amount of moisture in the air.
For more advice about bathroom ventilation or other comfort issues in your Fort Wayne home, contact Hartman Brothers Heating & Air Conditioning.
Our goal is to help educate our customers in New Haven, Indiana and surrounding Fort Wayne area about energy and home comfort issues (specific to HVAC systems). For more information about bathroom ventilation and other HVAC topics, download our free Home Comfort Guide or call us at 260-376-2961.
Credit/Copyright Attribution: "Kevin_Hsieh/Shutterstock"