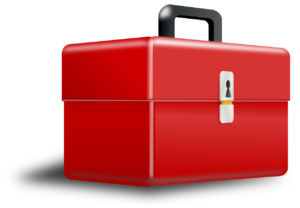 The technicians who maintain, repair or replace the HVAC equipment in your home use a variety of tools to complete these jobs. Some are basic items that are used by many different trades, such as a ladder, level, tube cutter, wire stripper and reciprocating saw, as well as various types of pliers, screwdrivers, hex nut drivers and wrenches. Depending on the work being performed, your technician will also likely employ specialized HVAC tools such as:
Refrigeration Gauges
Also called a manifold gauge set, this tool is used to read temperature and refrigerant pressure when a new cooling system is being installed, or when more refrigerant is being added to an existing system.
Refrigerant Charging/Recovery Scales
Charging scales are used to accurately measure the amount of refrigerant that's added to or recovered from a cooling system.
Vacuum Pump
A vacuum pump is used to draw air, moisture and other contaminants from your cooling system before it's recharged with refrigerant.
Digital Manometer
A technician uses a digital manometer to measure static pressure on the return and supply sides of your HVAC duct system, which can help identify problems with the blower fan or leaks/obstructions in the ductwork that are affecting airflow through the HVAC system.
Combustion Analyzer
A combustion analyzer is an essential tool for checking the proper function and efficiency of your gas- or oil-fired home heating system. The device measures the temperature of smoke in the furnace flue as well as the levels of carbon dioxide and oxygen in the air.
Psychrometer
A psychrometer measures humidity using the temperature readings on its wet and dry bulbs. Based on the difference between the readings, a technician can determine if your cooling system or dehumidifier is removing moisture from the air efficiently as per the equipment manufacturer's specifications.
Clamp Meter
Clamp meters are used to measure voltage and amps on an HVAC system's wiring, so a technician can troubleshoot and pinpoint the source of electrical problems.
To learn more about the HVAC tools we'll use during a visit to your Fort Wayne-area home, contact us today at Hartman Brothers Heating & Air Conditioning.
Our goal is to help educate our customers in New Haven, Indiana and surrounding Fort Wayne area about energy and home comfort issues (specific to HVAC systems). For more information about HVAC tools and other HVAC topics, download our free Home Comfort Guide or call us at 260-376-2961.
Credit/Copyright Attribution: "OpenClipart-Vectors/Pixabay"