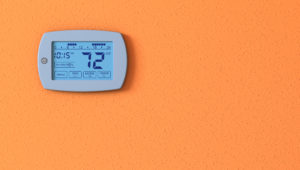 Fall can be a fickle season to leave home when the usual cold front is quickly followed by a warm-up that lasts for several days or longer. Picking the best thermostat settings to accommodate a wide swing in outdoor temperatures can be confusing.
Best Strategy
As long as you're not leaving pets or plants behind, you can drop the temperature by 8 to 10 degrees when you're gone if you have a gas furnace or smart thermostat. When you return, a gas furnace will heat the home quickly. You can access a smart thermostat from anywhere to adjust the temperature based on the weather in Fort Wayne.
It's also possible that freezing weather will occur while you're away, and in that case, you'll want to be sure your home stays over 50 degrees F. If it's any colder, the water pipes and the appliances that use water could freeze.
When pipes freeze, they can burst or leak as they thaw. Keeping your home warm if you've had problems with frozen pipes before is better than risking water damage. The cost of keeping it warm is small compared to cleaning up a flood.
Settings for a Heat Pump
A gas furnace will easily hold 50 degrees inside, but a heat pump may struggle, depending on your initial thermostat settings. Unless you're using an intelligent or adaptive recovery thermostat with a heat pump, it may turn on its emergency heating coil to reach the setting.
The coil inside a heat pump uses far more electricity to create heat than the heat pump itself. When it thinks it needs to heat more than two degrees to reach the thermostat's setting, it will turn the coil on, driving up energy costs.
Programmable and Smart Thermostats
Of the two, smart thermostats are better for people who travel, since they allow remote access. However, both can thoroughly heat a home just before the planned return.
Lower thermostat settings make a difference in energy costs while you're traveling in the fall. To learn more, contact Hartman Brothers Heating & Air Conditioning, providing trusted services for Fort Wayne homeowners.
Our goal is to help educate our customers in New Haven, Indiana and surrounding Fort Wayne area about energy and home comfort issues (specific to HVAC systems). For more information about thermostat settings and other HVAC topics, download our free Home Comfort Guide or call us at 260-376-2961.