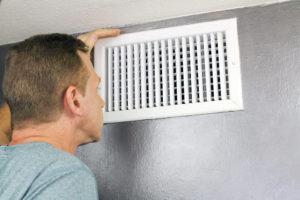 To keep away the cold of a Fort Wayne winter, your heating system needs to be as well prepared as it can be. Clean heat vents are part of that preparation.
Clean Up Those Vents
Air supply and return vents readily collect dust and debris, and once it builds up, it can start to break free again and circulate through your home's air. These added air contaminants worsen your indoor air quality, especially in winter when your house is closed up. The debris can also find its way into your system's components, such as the motor and heat exchanger, impairing their efficiency and causing wear.
To clean your vents, first turn off your heating and cooling system. Run your vacuum's crevice tool over the vent to pick up loose dust. Unscrew the screws holding the vent and take the vent out. If you're removing a ceiling vent, lay newspaper on the floor first.
Check inside the duct behind the vent for any foreign objects that may have fallen in and remove them. Vacuum inside the duct as far back as you can reach.
Prepare a bucket of warm, soapy water and use a wet sponge to wipe down the vent, taking care to get between the slats. If the vent is caked with debris, soak it in pure hot water for a few minutes. Avoid soaking it with soap, which could damage the paint.
To clean a vent you can't remove, use a microfiber cloth. This carries less risk of spreading grime to the wall than a wet sponge.
Tips for Efficiency
To promote good air circulation, make sure there are no objects such as furniture or drapes blocking your heat vents or return air vents. Never close more than 10 percent of your vents. Closing the vents doesn't save energy, it only creates a pressure imbalance in the system that can eventually damage the components.
If you'd like help preparing your heat vents and the rest of your heating system for winter, contact us at Hartman Brothers Heating & Air Conditioning in the Fort Wayne area.
Our goal is to help educate our customers in New Haven, Indiana and surrounding Fort Wayne area about energy and home comfort issues (specific to HVAC systems). For more information about vents and other HVAC topics, download our free Home Comfort Guide or call us at 260-376-2961.
Credit/Copyright Attribution: "serenethos/Shutterstock"