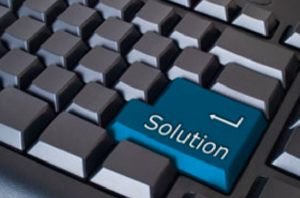 You've probably heard the expression, "but it's a dry heat" when talking about the weather, but it's not something you would use to describe an Indiana winter. Not unless you were talking about indoors, that is.
Did you know that the heat from the furnace that feels so good on a cold day also dries out the air in your home? That is one reason why you're more likely to have chapped lips and cracked skin. But dry air can also:
Encourage the growth of some viruses that thrive in low humidity
Damage wood floors and furniture
Crack paint and plaster
Cause wallpaper to peel
Create annoying static electricity
Cause minor physical discomfort like sore throats and bloody noses
The good news is, all of these problems are preventable. All you need is a humidifier.
Types and Benefits of Humidifiers
There are two types of humidifiers. Whole-home humidifiers are installed inside your heating system. They can be installed in traditional systems as well as in radiant heat and baseboard heat systems. Individual humidifiers are small units that can be placed in any room of your house where you want them.
In both cases, they work by sending water vapor into the air, which adds humidity. When your air has a healthy level of humidity, generally between 30 and 50 percent, it is more comfortable to breathe. Your skin, lips, and nasal passages need a certain amount of moisture to be healthy and avoid cracking, bleeding, or chapping. People with dry skin conditions like eczema also find relief in humidified air.
Another benefit is found when you look at your energy costs. Lowering the temperature on your thermostat causes your heating system to use less energy. The downside is that you can only go so low before you're cold. Since humidified air feels warmer, you can lower your temperature more before you start to feel the effects. This results in less energy use all winter long.
Ready to learn more about the benefits of a humidifier for your Fort Wayne area home? Contact Hatman Brothers Heating & Air Conditioning today.
Our goal is to help educate our customers in New Haven, Indiana and surrounding Fort Wayne area about energy and home comfort issues (specific to HVAC systems). For more information about humidifier and other HVAC topics, download our free Home Comfort Guide or call us at 260-376-2961.
Credit/Copyright Attribution: "freedigitalphotos"