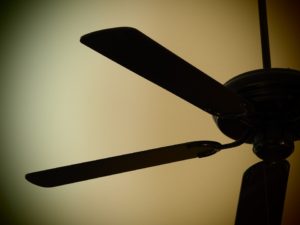 Even as summer winds down, the continued warm weather means most people still turn to their air conditioners for relief. The biggest downside to this is that cooling bills can remain high until nature offers more pleasant days. Using ceiling fans throughout the home will help keep you cooler and can reduce your air conditioner's workload. Here's more about that.
Cool Down With an Indoor Breeze
There is a big difference in comfort between stuffy days when there is little to no breeze and days when there is a nice breeze. The reason for the difference can be traced to how the human body cools itself through perspiration. When air flows over the body it helps sweat evaporate and wicks heat away. When you use ceiling fans, you are re-creating this cooling effect indoors. Many people discover they can then get by with raising the thermostat setting a few degrees to reduce the work of the air conditioner.
Increase Comfort With Ceiling Fans
Installing a ceiling fan can add extra comfort to any room of your home that is at least eight feet high or higher. In the living room and other main living areas where several people might congregate at a time, the continuous circulation of air makes family activities or parties more pleasant. In bathrooms and kitchens, ceiling fans, the airflow has the added benefit of reducing humidity often generated in these rooms. Ceiling fans installed in bedrooms can create a cooler, more pleasant sleep environment.
Save Energy With the Right Ceiling Fan
As with most home comfort features, look for the Energy Star label when shopping for your ceiling fans. Fans that meet the Energy Star criteria run more efficiently than others do. If your home's design is open-plan or you have larger than average rooms, make sure to account for this when making your purchases. You will reap the most cooling efficiency by installing multiple fans in larger areas.
For more information about ceiling fans or other ways to cool your Fort Wayne home, please contact us at Hartman Brothers Heating & Air Conditioning.
Our goal is to help educate our customers in New Haven, Indiana and surrounding Fort Wayne area about energy and home comfort issues (specific to HVAC systems). For more information about ceiling fans and other HVAC topics, download our free Home Comfort Guide or call us at 260-376-2961.
Credit/Copyright Attribution: "eak_kk/Pixabay"