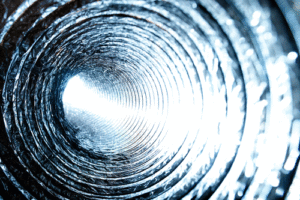 Nothing lasts forever and that includes your home's ductwork. Just as the average human being ages, your ductwork can become old and worn-out after years of faithful service. Old ductwork can have a sizable impact on your HVAC system's energy efficiency and overall ability to keep your home comfortable. It can also impact your home's indoor air quality — leaky joints and cracks caused by corrosion can let dirty air circulate throughout home.
Here are a few telltale signs that show you're dealing with old ductwork:
Your ducts are more than 10 years old. Like other parts of your HVAC system, ducts can deteriorate due to old age. If it's been 10 years since your duct system was installed, it pays to have it inspected.
You're getting inconsistent airflow. If temperatures change drastically from room to room, you could be dealing with obstructions or breaks in the ductwork.
You're seeing higher energy bills. Airflow issues caused by faulty ductwork can cause your energy bills to creep higher each year.
You see signs of rust or visible corrosion. Metal ductwork can rust or corrode when exposed to excess moisture or other rust/corrosion-causing elements.
You see visible signs of dust and debris in the ductwork. Cracks, gaps and completely detached sections of ductwork can allow dust and debris to enter and eventually mix with indoor air. One telltale sign of this involves dust tracks originating from the duct joints.
If you suspect old ductwork to be at the source of your heating and cooling troubles, you should have an HVAC professional perform a comprehensive inspection. Your HVAC technician will perform a series of tests to evaluate your ductwork's current condition and suggest options for repairing, improving or even replacing the ductwork.
Contact us at Hartman Brothers Heating & Air Conditioning and learn about your options for dealing with old ductwork in your Fort Wayne-area home.
Our goal is to help educate our customers in New Haven, Indiana and surrounding Fort Wayne area about energy and home comfort issues (specific to HVAC systems). For more information about ductwork and other HVAC topics, download our free Home Comfort Guide or call us at 260-376-2961.
Credit/Copyright Attribution: "bernard-zajac/Shutterstock"