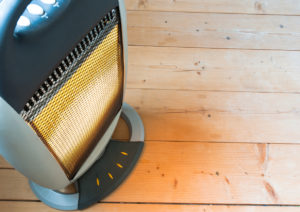 It's sometimes tempting to use a space heater in the fall before heating season is in full swing. You may need heating in one small area only or you haven't had the heating system serviced yet. Space heaters will supply the heat you need for a specific area, but before you go forward, consider their pros and cons.
Pros of Space Heaters
Heats a small area. Space heaters do a good job providing heat in a cold bathroom or spot heating in the basement or garage for a short period.
They don't cost much to buy. Most are less than $100.
Cons
Risks of injury. Space heaters get hot and contact burns are possible. It's also easy to trip over their cords. Placing them too close to combustible materials could start a fire. Space heaters are responsible for more fire-related deaths in the winter than any other cause.
Will drive up energy bills if used too much or in too many rooms. Space heaters are not cost-effective ways to heat an entire home. An electric space heater can only create one unit of heat for every unit of energy they consume.

A heat pump, by comparison, creates at least three units of heat for every watt of power it uses. Most homes in this area use natural gas furnaces, which is presently the least costly way to heat a home. Relying on space heaters to generate the same amount of heat would drive up your electric bills significantly.

Can be hazardous if they're not vented. Space heaters that use combustible fuel are only safe if they're vented to the outdoors. Unvented heaters and fireplaces are available, but if you plan to use them for continuous heating, you're putting yourself at risk for carbon monoxide (CO) exposure. If you use unvented heaters or fireplaces, be sure your CO detectors are working.
Using a space heater makes sense if you don't need to use it often and you never leave it unattended. For more information about heating safety, contact Hartman Brothers Heating & Air Conditioning, providing services for Fort Wayne homeowners.
Our goal is to help educate our customers in New Haven, Indiana and surrounding Fort Wayne area about energy and home comfort issues (specific to HVAC systems). For more information about other HVAC topics, download our free Home Comfort Guide or call us at 260-376-2961.