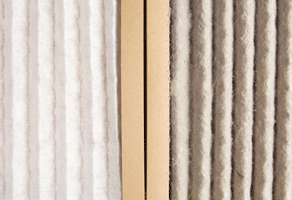 Hidden away inside your Indiana home's HVAC system, your air filter performs an important job. To do that job well, though, the filter must be clean. Ensuring your system is equipped with a clean filter provides you with a number of benefits.

Greater system efficiency – A dirty air filter impedes airflow and forces your system to work harder in order to take in sufficient air. That means the system burns more energy, leaving you with higher electric bills. When the filter is clean, it traps contaminant particles, but allows sufficient air to flow through continuously.
Fewer maintenance problems – The reduced airflow caused by dirty air filters can lead to maintenance issues such as an iced-up A/C or heat pump evaporator coil or a cracked heat exchanger. Lower-efficiency filters, such as fiberglass air filters, can become clogged with debris, then warp and blow out of the frame that holds them. With the air filter missing, airborne debris freely enters your HVAC system where it can result in dirty air ducts, clogged coils and damage that requires expensive repairs.
Healthier air – Biological contaminants such as pollen, mold spores, viruses and bacteria can compromise your health. A fiberglass filter alone won't protect you from these. To trap the smaller micro-organisms and non-organic particles, consider upgrading to a medium- or high-efficiency filter, such as a pleated filter. To reduce the amount of viruses and bacteria in your home, adding a UVGI (ultraviolet germicidal irradiation) air cleaner is one option. These use UV light to destroy biological air contaminants.
Ensure your HVAC system always has a clean filter by checking the filter once a month during periods of heavy use. You may not need to change the filter monthly, but plan to change it once every three months at minimum. For a more precise way to determine when to change your filter, install a filter change indicator.
For more expert guidance on caring for your air filters or upgrading your home air purification system, get in touch with us at Hartman Brothers Heating & Air Conditioning. Since 1963, we've been serving the Fort Wayne area with top-quality HVAC care.
Our goal is to help educate our customers in New Haven, Indiana and surrounding Fort Wayne area about energy and home comfort issues (specific to HVAC systems).  For more information about air filters and other HVAC topics, download our free Home Comfort Resource guide.
Image courtesy of Shutterstock