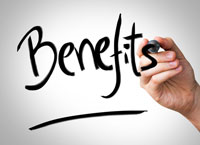 Residents of the Fort Wayne area have a lot of choices when it comes to home heating. A dual-fuel heating system provides a number of benefits, making it an option well worth considering, especially if you're tired of your old, inefficient furnace. 
A dual-fuel heating system is an air-source heat pump coupled with a high-efficiency gas furnace, with the set-up offering the best of both worlds for efficiency and comfort.
Efficiency – The combination of a an electric heat pump and furnace provides maximum heating efficiency. Where one part of the unit drops in performance, the other takes over. A dual-fuel system offers more efficient heating than either the furnace or electric heat pump could provide on its own.
Comfort – With a dual-fuel heating system, you have total control over the temperature in your home. The heat pumps provides comfortable even heating as long as outside temperatures are mild; when it starts getting cold and the heat pump begins struggling to maintain comfort, the gas furnace takes over, with its trademark cozy warming power.
Environmental Impact – No gas furnace can compete with a dual-fuel system when it comes to being environmentally friendly. Typically, the system uses electricity most of the time – about 85 percent – while utilizing gas heat the rest of the time. This means less pollution and lower emissions than a traditional furnace.
Versatility – A dual-fuel heating system adapts to the conditions outside and inside your home to provide the right amount of heating power under any circumstances.
Cost-Effectiveness – While the initial installation cost is greater than either a gas furnace or an electric heat pump individually, most homeowners see a major reduction in energy costs. Reduced energy consumption means lower utility bills and major savings over the lifetime of your system.
Fuel Options – With a dual-fuel system,  you can manually choose your energy source. If natural gas prices are significantly lower than electricity, as is the case in much of the country nowadays, you have the option of switching to gas for extended periods.
To find out if a dual-fuel heating system is right for your home, contact Hartman Brothers Heating and Air Conditioning today. We've been proudly serving Fort Wayne and the surrounding communities since 1963.
Our goal is to help educate our customers in New Haven, Indiana and surrounding Fort Wayne area about energy and home comfort issues (specific to HVAC systems). For more information about dual fuel heating systems and other HVAC topics, download our free Home Comfort Resource guide.
Credit/Copyright Attribution: "Filipe-Frazao/Shutterstock"