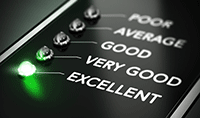 The benefit of a central air system is that it allows your entire home's temperature to be controlled from a single thermostat, with a single HVAC installation. But it also comes with a serious drawback: the ducts that deliver air to your living areas can develop leaks or tears that bleed off conditioned air before you can make use of it. When your ducts pass through crawl spaces and other passages outside of your living areas, this can lead to wasted energy and money. That's why duct sealing is so important.
Here's how it works:
Contact a professional for a home energy audit, a blower door test and a duct inspection. This will help to determine if you're losing air pressure through your ducts, and how much you're losing.
Your local HVAC professionals can inspect your ductwork, examining the entire length of duct and its branches. Joints and corners are especially prone to developing leaks, but they can develop anywhere along the ducts.
Any unsupported ductwork can have supports installed, and your HVAC professional can also ensure that ductwork was properly installed when the house was built. They may also check to see that dampers are opened correctly.
Your HVAC professional can also check the ducts for dust, dirt and other obstructions. If evidence of mold or fungal growth is found, you may want to consider a professional duct cleaning or some form of air quality solution,such as sterilizing UV lights.
Gaps in ductwork can be sealed with mastic and fiberglass mesh tape. If the damage is extensive, replacement of that section of ductwork may be preferable. If your ducts are rectangular and tend to produce banging or popping noises, you may want to replace them with square or circular ducts to distribute air pressure more evenly.
To learn more about how a Fort Wayne-area HVAC professional can help you with duct sealing and other ductwork concerns, contact us at Hartman Brothers Heating & Air Conditioning. We've proudly served our Indiana neighbors since 1963 – let us take care of you.
Our goal is to help educate our customers in New Haven, Indiana and surrounding Fort Wayne area about energy and home comfort issues (specific to HVAC systems). For more information about duct sealing and other HVAC topics, download our free Home Comfort Resource guide.
Credit/Copyright Attribution: "Olivier-Le-Moal/Shutterstock"