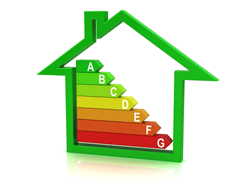 When you're ready to replace your older HVAC equipment with newer, more efficient appliances, you'll want to choose products that have earned the Energy Star. Each year, the average household spends well over $1,000 on heating and cooling. Upgrading to HVAC equipment that has been certified by Energy Star will help you save money as well as keeping you comfortable all year long.
Furnaces and Boilers

Most homes in the United States are heated by a furnace or boiler. In order to earn the Energy Star rating, furnaces or boilers must have a high AFUE (annual fuel utilization efficiency) rating. The AFUE rating measures how efficiently the heating system converts fuel into heat over the period of a year. This number is represented as a percentage. For example, an older furnace may have an AFUE rating of 60-70 percent while a modern high-efficiency furnace will have an AFUE rating of 90-98 percent. To get the coveted Energy Star, a furnace must have an AFUE of 90 percent or more.

Heat Pumps and Air Conditioners 
When it's time to upgrade your home's HVAC situation, you may want to consider purchasing a new air conditioner or investing in a heat pump. Heat pumps and air conditioners that have earned the Energy Star rating will have high SEER  (seasonal energy efficient ratio) and EER (energy efficient ratio) ratings. Both of these systems measure how efficiently your system provides cooling, though in different ways. Many homeowners enjoy the convenience of heat pumps because they both heat and cool the home.

Purchasing a new, high-efficiency HVAC system is an important decision. The choices can seem overwhelming if you are unfamiliar with this type of equipment. Hartman Brothers Heating & Air Conditioning has been serving the Fort Wayne area since 1963. Please contact us today to learn more about energy-efficient options for your home.
Our goal is to help educate our customers in New Haven, Indiana and surrounding Fort Wayne area about energy and home comfort issues (specific to HVAC systems).  For more information about energy efficient HVAC equipment and other HVAC topics, download our free Home Comfort Resource guide.
Image courtesy of Shutterstock