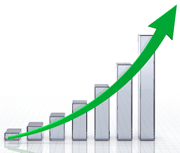 Indiana's often severe winters demand a lot from your heating system. That can leave you with high energy bills unless you take steps to maximize your energy savings. Some of the biggest savings come from home improvement jobs that involve little time or expense:
Air seal your home – Sealing the air leaks around your home could save you up to 20 percent on your heating bills. To start, weatherstrip doors and windows, caulk door and window frames, and install door sweeps.
Check your attic insulation – Because heat rises, attic insulation is critical for keeping heat inside your home. Your attic should have around 10 to 12 inches of insulation, depending on the type. If you can see your floor joists, your attic is under-insulated. Add fiberglass batt insulation or consult an HVAC expert about adding blown-in insulation.
Weatherize your windows – Cover single-pane windows with heavy, clear plastic sheeting. Better yet, install Energy Star-qualified multi-pane windows, which could improve your home's energy efficiency by up to 70 percent. Hang insulating drapes, but open them on sunny days to let in more warmth.
Lower the thermostat – Lower your thermostat 10 to 15 degrees when you're away or asleep. For every degree you lower the thermostat for eight hours at a time, you can increase your energy savings by around 3 percent. For convenience and accuracy, install a programmable thermostat.
Keep your system in shape – Before the heating season begins, call an HVAC professional for a thorough annual inspection of your system. A professional can catch health and safety hazards before they cause harm and can also alert you to any problems that lower your system's efficiency. During heating season, change your air filters monthly. Dirty filters impede airflow and reduce your system's efficiency.
Consider an HVAC upgrade – Older low-efficiency furnaces are only 68 to 72 percent efficient, whereas new high-efficiency models reach 90 to 97 percent efficiency.
For more expert tips on boosting your energy savings while keeping your home comfortable, please contact us at Hartman Brothers Heating and Air Conditioning. Since 1963, we've been providing reliable HVAC care throughout the Fort Wayne area.
Our goal is to help educate our customers in New Haven, Indiana and surrounding Fort Wayne area about energy and home comfort issues (specific to HVAC systems).  For more information about energy savings and other HVAC topics, download our free Home Comfort Resource guide.
Image courtesy of Shutterstock