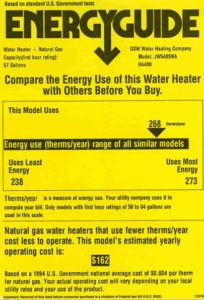 Created in the 1970s, the EnergyGuide label program was established to help consumers make more informed decisions regarding home appliance purchases. The label displays important energy efficiency information and how a specific appliance, such as your next air conditioner, compares to similar models. Keep reading so you can make heads or tails of the label information and use it to your advantage.
EnergyGuide Labels
EnergyGuide labels may be more easily read from top to bottom in three different sections of information.
Top area: The top left corner displays product features that differentiate it from other products of the same classification. In the top right corner, the manufacturer name, model, and appliance make are indicated. You will also see the appliance's size (e.g. refrigerator) or capacity (e.g. air conditioner).
Middle box: A rectangular box is located in the middle of the label. The box contains vital information about the product's energy usage. A graphic depicts the product's energy efficiency in comparison to other products in the same classification. The estimated annual energy cost is displayed on a sliding bar, which gives you a visual of how it compares on the efficiency scale to other products.
Bottom area: The EnergyGuide label also gives you the estimated annual energy usage of appliances. This is located in the bottom portion of the label. Using this annual estimate, you estimate your annual energy costs for a product.
Efficiency ratings: The efficiency ratings for HVAC products are located just below the estimated annual operating cost. The efficiency ratings for air conditioners, for example, are SEER and EER. The minimum SEER allowed is 13. Mid-efficiency air conditioners have around 16 SEER. If you want the greatest energy savings, go with a high-efficiency model with 20 SEER or higher.
Your HVAC contractor can crunch the numbers for you to give you a detailed lifetime cost analysis of different models you are considering to install. The lifetime cost is your total expense from day one to the end of your product's service life.
For more information about the EnergyGuide label, contact Hartman Brothers Heating & Air Conditioning in Fort Wayne.
Our goal is to help educate our customers in New Haven, Indiana and surrounding Fort Wayne area about energy and home comfort issues (specific to HVAC systems). For more information about EnergyGuide labels and other HVAC topics, download our free Home Comfort Guide or call us at 260-376-2961.
Credit/Copyright Attribution: "Public Domain/Wikipedia"