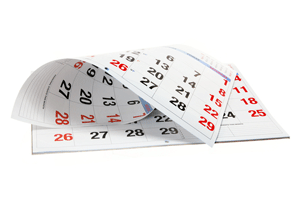 Your home will weather the winter better when you prepare it by performing fall maintenance before temperatures plummet. Freezing temperatures and howling winds can spell trouble for your Fort Wayne area home. This checklist can help you get ready for the change in seasons.
Outdoors
Check the weatherstripping on the exterior doors. If you can see daylight, it's time to replace it.
Look around the window frames for cracks and fill with exterior caulk to seal.
Carefully look around the foundation of your home and seal any cracks with caulk or expanding foam. If water can enter the foundation, it will freeze and cause larger cracks or mold growth.
Examine the exterior of your home and make sure that none of the paint is peeling or cracking. Moisture causes wood rot, which could result in an expensive repair in the future. If time and weather permit, repaint these areas.
Fix any loose or missing shingles on your roof to prevent damage to your roof or attic. Moisture can enter places where roofing material is missing.
Clean the gutters and downspouts. Clogged gutters are a common cause of ice dams building on your roof, which will damage the roof, insulation and your walls. They also allow rain and melted snow to drain right into your foundation, rather than draining safely away from the house.
Fill driveway cracks to prevent seepage below the soil. The moisture will expand as it freezes, making cracks worse.
Cover your air conditioner's outdoor condensing unit with a plastic tarp tied securely or lay a hard cover (such as a piece of plywood) across the top. Some HVAC experts advise against using any jacket or wrap that will trap moisture inside.
Indoors
Have your heating system checked as part of the fall maintenance program. The HVAC professional will clean, adjust it and verify its safe operation.
Make sure nothing is blocking the registers for your heating system.
Hire a professional chimney sweep if you use a wood-burning fireplace or wood stove.
Test the smoke and carbon monoxide detector batteries.
Weatherize the windows by using window sealing kits or adding heavy drapes.
For help tending to your home's heating system as a part of fall maintenance, please contact us at Hartman Brothers Heating & Air Conditioning. We've provided outstanding HVAC services for the Fort Wayne area since 1963.
Our goal is to help educate our customers in New Haven, Indiana and surrounding Fort Wayne area about energy and home comfort issues (specific to HVAC systems).  For more information about fall maintenance and other HVAC topics, download our free Home Comfort Resource guide.
Image courtesy of Shutterstock