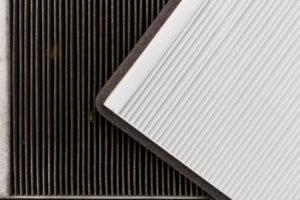 Not every furnace filter has an arrow stamped on its side, but when you do see it, it indicates which direction the filter has to face. It always points to the direction of the furnace's air handler or blower compartment. Even though the filter may look the same on each side, there are differences that affect how it lets air through it and into your HVAC system.
You may have seen or even purchased inexpensive filters that have mesh on one side and filter material on the other. The mesh side needs to be the furthest from the air handler. It's there to lend some stiffening and structure to the thin, inexpensive fiberglass filters. Pleated filters are denser and able to trap more airborne particulates, but they, too, need to be installed correctly so you get the most energy efficient heating for your home.
How It Makes a Difference
There is a science behind the manufacturing of air filters because the amount of airflow affects forced-air HVAC systems. They run best when the air pressure and volume is within the ranges the manufacturer specifies. Anything that interferes with the airflow can harm the equipment over time.
In order to trap the most particles, manufacturers make filters so that they're less dense on the side that faces the air handler. This increases the air volume going into the blower compartment, which lowers the cost of heating and cooling. When the denser or thicker part of the filter faces the air intake, the furnace filter traps more particles, which keeps the HVAC system and the ductwork cleaner.
Considering how important a furnace filter is to your HVAC system, it makes sense to ask your HVAC technician to explain the best filter to use with your equipment, when to change it and how to install it. To talk about these filter issues, contact the pros at Hartman Brothers Heating & Air Conditioning, serving Fort Wayne homeowners.
Our goal is to help educate our customers in New Haven, Indiana and surrounding Fort Wayne area about energy and home comfort issues (specific to HVAC systems). For more information about other HVAC topics, download our free Home Comfort Guide or call us at 260-376-2961.