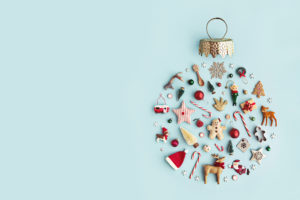 The holidays are coming. Time to decorate your home! If you're feeling crafty, you might even make your own decorations.
Here are a few HVAC ornaments you can make, using just an ordinary dryer vent.
Wreath
For those who are just starting out, this is one of the simplest dryer vent crafts you can make. Glue the two ends of the vent together, so it forms a ring. Spray paint it green, and decorate it with pine cones, holly berries, and other accessories to make it look like a holiday wreath.
Snowman
Start with three lengths of dryer vent, of three slightly different sizes. Glue each one's ends together to form three rings, like you did with the wreath. Stack them up - big one on bottom and small one on top - and glue them together to look like a snowman. If you start with white vents, theoretically you don't need to paint it. But if you want, you can spray it with a textured white paint, to give it more of a snowy look/feel. Decorate your snowman with a top hat, coal eyes, carrot nose, and anything else you think it needs. To continue the HVAC ornaments theme, you can even glue it to a new, white air filter, to look like the snowy ground beneath.
Christmas tree
Start with several lengths of dryer vents, gluing them each together into rings, like you've been doing. How many lengths you use depends on how big you want your tree to be. Spray paint the rings forest green, let them dry, then stack them on top of one another and glue them together, largest on the bottom. Glue a star to the very top, to give it the vague look of a Christmas tree, tapering off to a point at the top. Decorate your tree with garland, different colored beads, or whatever else you like.
For plenty of new dryer vents and filters for your DIY HVAC ornaments, and general home comfort advice, contact us at Hartman Brothers. We're New Haven's source for heating and cooling solutions.
Our goal is to help educate our customers in New Haven, Indiana and surrounding Fort Wayne area about energy and home comfort issues (specific to HVAC systems). For more information about other HVAC topics, download our free Home Comfort Guide or call us at 260-376-2961.