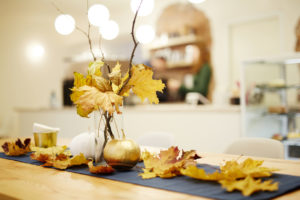 Winter is here and with it comes the holiday season - and with the holiday season comes the need for preparing your HVAC system. Let's take a look at a few tasks that will help you address holiday HVAC concerns including home comfort and vacation safety.
Schedule an Annual Inspection
Your heating and cooling equipment should be checked at least once a year to ensure that they're operating at optimal efficiency and performance. Calling a qualified HVAC technician to check your furnace prior to the holidays will help you prep the system for the heating needs of the entire season so that you, your family, and your guests can enjoy the festivities.
Replace or Clean the Filter
Air filters do a great job keeping contaminants and particulates from re-entering your home as air circulates through the system. Unfortunately, filters typically fill up every 1-3 months and must be either replaced or cleaned to ensure proper efficiency and effectiveness. The rule of thumb is to check the filter once per month.
Keep Blankets Handy
When the temperature drops, your natural instinct may be to reach for the thermostat controls and crank up the heat. This can quickly become very costly as you're using tons of energy to keep warm. Whenever possible, bundling up with blankets or even sweaters and long-sleeved shirts can help you stay toasty without the extra costs.
Shut Off the Main Water Valve While on Vacation
If you're going on vacation for the holidays, it's a good idea to shut off your main water valve. Although water leaks can be a concern, the much bigger problem during the winter season is the possibility of your pipes freezing over and bursting while you're out of town. This can cause devastating damage to your home and it's definitely something you never want to return to after a vacation.
For more expert advice on holiday HVAC concerns or any other home comfort issues throughout the winter season, please contact the friendly professionals at Hartman Brothers Heating & Air. We've been serving the HVAC needs of New Haven and the surrounding areas since 1963.
Our goal is to help educate our customers in New Haven, Indiana and surrounding Fort Wayne area about energy and home comfort issues (specific to HVAC systems). For more information about other HVAC topics, download our free Home Comfort Guide or call us at 260-376-2961.