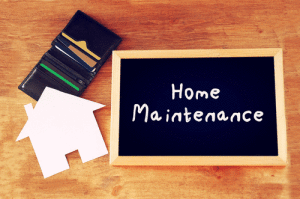 Many home maintenance tasks keep your home in better shape as cooler temperatures arrive. Although it is very important to have your HVAC system serviced in fall, your home maintenance list should extend beyond that. Here are tasks to add to your list.
Sealing Air Leaks
Heat loss through air leaks increases your energy bills and makes your heating system work harder. Use caulk, weather-stripping or expanding foam insulation to seal air leaks:
Around pipes entering from outdoors
Prevent Roof Leaks
Inspect your roof for rotting areas and damaged shingles. Breaches to the roof can lead to moisture problems in the home and in attic insulation. Moisture leads to rot and mold, and wet insulation loses some of its insulating ability. Make roof repairs to prevent heat loss and costly damage to your home.
Clean the Gutter
Clogged gutters lead to moisture problems on the roof because water or snow cannot quickly drain away. This often results in rotten areas of the roof, ice dams,and moisture problems in exterior walls. Clean the gutters thoroughly in the fall and check them often for additional debris.
Insulate
Good insulation prevents heat loss through the winter, which helps your HVAC system keep things cozier without expending more energy than necessary. Make sure the following areas and home features have adequate insulation:
The attic – Attics are a major source of heat loss in winter if they lack proper insulation.
Exterior walls – Heat can transfer from your home to the outdoors through poorly insulated exterior walls.
Water pipes in cold areas – Heated water traveling through cold pipes loses heat.
The water heater – Look for special insulating wraps made for water heaters.
Check Your Foundation
Seal foundation cracks and ensure that soil slopes away from the house to prevent soggy soil around the foundation. Saturated soil causes cracks in the foundation, and this in turn can lead to heat loss and moisture problems inside the home.
For more information about fall home maintenance, please contact us at Hartman Brothers Heating & Air Conditioning.
Our goal is to help educate our customers in New Haven, Indiana and surrounding Fort Wayne area about energy and home comfort issues (specific to HVAC systems).
Credit/Copyright Attribution: "tomertu/Shutterstock"