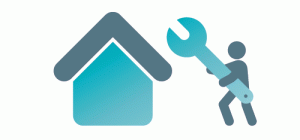 Home safety is one element of protecting your family, guests, and property from potential hazards and preventable disasters. Include the following items on your home safety checklist routinely to stay on top of things.
Lighting
Make sure the exterior of your home is well lit. Illuminate the house numbers, walkways, and the driveway to keep potential guests safe if they arrive after sunset and to enable emergency workers to easily find your home. Motion sensor lights alert you to guests, both expected and unexpected visitors.
Windows
Your windows, especially those on the ground level, should have adequate locks. If you keep your windows open at night to cool the home, only open windows that have a screen to keep bugs out or those that have barriers to keep them from opening widely enough for an intruder to crawl through. Shatter resistant glass protects your family from shards in the case of stray baseballs or severe weather.
Electrical Safety
A home safety checklist should also include electrical components. If any cords or appliances in your home smell hot or short out while in use, replace them. Do the same with any frayed electrical wires you encounter. To prevent worn cords or wiring, never run them under a rug or across a heavily trafficked area.
Fire Safety
To prevent fire from catching in your chimney, have the chimney swept regularly. Soot and ash buildup or the occasional bird nest become kindling with a floating ember. Also keep carbon monoxide and smoke detectors up to date with new batteries and sound checks at least twice each year. Store all flammable materials (gasoline, paint thinner, certain oils) outside of the home in a garage or storage shed and away from heating elements or open flame.
Home safety should also include regular maintenance of your heating and air conditioning systems. Hartman Brothers Heating & Air Conditioning is here to help. Give us a call to schedule an appointment today.
Our goal is to help educate our customers in New Haven, Indiana and surrounding Fort Wayne area about energy and home comfort issues (specific to HVAC systems). For more information about home safety and other HVAC topics, download our free Home Comfort Guide or call us at 260-376-2961.
Credit/Copyright Attribution: "shockfactor.de/Shutterstock"