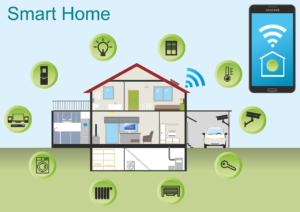 With smart home technology advancing by leaps and bounds, homeowners today can enjoy new levels of comfort and convenience. There's a lot of potential for smart home savings on energy too, when your home's equipped with:
Intuitive Comfort Controls
Rather than just following a programmed schedule to curb consumption, a smart thermostat actually senses activity in different rooms and adjusts HVAC output accordingly. It knows when a room is occupied, and by how many people, and when there's no one home.
Intelligent Light Bulbs
With Wi-Fi-enabled bulbs installed, you won't have to worry about the lights being left on and wasting energy, because you can shut them off remotely via your favorite device. You can also set customized lighting preferences to vary bulb brightness at certain times of day, turn lights on just before you wake up, or shut them off when no one's home.
Clever Kitchen Appliances
Think of the potential smart home savings you'd gain through two-way remote communication with appliances like your fridge, microwave, dishwasher and range. You'd get an instant alert if the fridge door is left ajar, or if you leave the oven on. Smart appliances can also streamline how much energy they consume by going into "power saving mode" when they're not in use.
Wise Window Treatments
Solar radiation transmitted through your windows can raise your HVAC cooling load significantly, but it's easy to forget to close your blinds or curtains. Now you can have smart window film applied that lets in the light but blocks UVA and UVB rays to curb heat gain, and you can activate it from anywhere via an app.
Energy-Conscious Laundry Equipment
With a smart washer, you wouldn't waste money rewashing forgotten loads of clean clothes, because the machine senses that you're not around and tumbles the load gently to keep it fresh. You'll also know instantly if the dryer starts using more energy because your appliance alerts you to issues like a clogged lint filter that's restricting airflow.
For more energy- and money-saving ideas for your Fort Wayne home, contact us today at Hartman Brothers Heating & Air Conditioning.
Our goal is to help educate our customers in New Haven, Indiana and surrounding Fort Wayne area about energy and home comfort issues (specific to HVAC systems). For more information about smart homes and other HVAC topics, download our free Home Comfort Guide or call us at 260-376-2961.
Credit/Copyright Attribution: "Pixaline/Pixabay"