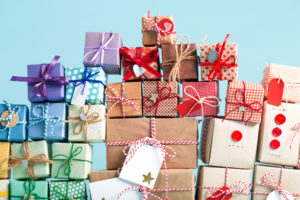 'Tis the season for holiday shopping. No matter what holidays you and your loved ones celebrate, gifts are an important way to show you care. And sometimes, practical, useful presents can be even more thoughtful than sentimental ones. Here's a guide to some of the HVAC gifts you can get for friends and family, to help keep them comfortable year round.
Annual maintenance service contract.
For that friend who always seems to forget important events and other commitments, this is an incredibly useful present. With a service contract, their annual HVAC maintenance visit is provided automatically, and the HVAC company will send them reminders when it's time, so they don't have to remember to book it every year. A contract also includes basic repairs throughout the year, and priority scheduling for technician visits.
Air filtration system.
The air in your home is far more contaminated than the air outside, with a buildup of dust, mold, bacteria, and other contaminants. Your HVAC system filters some of it out, but for the serious allergy sufferers in your life, it's not enough. A dedicated air filtration system are designed to use high efficiency filters that would damage an ordinary HVAC system. These filters can eliminate not just dust, but cigarette smoke, aerosol spray, and other tiny particles that can wreak havoc on allergies and asthma.
Smart fan and thermostat.
That friend who always has the latest gadgets will be thrilled to get some smart HVAC gifts. A Wi-Fi-enabled thermostat can be controlled from their smartphone, and lets them control their HVAC system from anywhere. They can turn the furnace on remotely, on their way home, so everything is comfortable when they arrive. A smart fan can also be programmed to turn on and off with an app, circulating air when and where it's needed. It also has motion sensors to turn on automatically when someone enters the room, and is programmed to keep save energy.
Snag these HVAC gifts by contacting us at Hartman Brothers today. We've provided quality heating and cooling solutions to the New Haven area for over 50 years.
Our goal is to help educate our customers in New Haven, Indiana and surrounding Fort Wayne area about energy and home comfort issues (specific to HVAC systems). For more information about other HVAC topics, download our free Home Comfort Guide or call us at 260-376-2961.