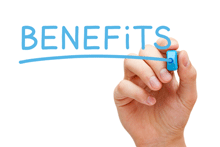 You're probably familiar with the benefits of keeping your heating and cooling system well maintained. Equipment components kept in good condition perform more efficiently and can save you more money with a longer lifespan. To enjoy these benefits, you need to schedule HVAC maintenance at least once a year.
What about signing up for an HVAC maintenance plan? Here are five added benefits that go beyond simply enjoying well-maintained equipment.
Discounted Service Rate and Parts
Regular maintenance can decrease your need for service throughout the season, but if you require a repair, having an HVAC maintenance plan in place entitles you to a discounted service rate and 10 to 20 percent off repair parts, depending on the plan you sign up for.
Discounts on New Equipment
If you decide to make an equipment upgrade or add-on, you'll receive a 10 percent discount by having an HVAC maintenance plan. This means if you buy a whole new air conditioner or furnace, the cost of the plan immediately pays for itself and then some. You can also use the discount to purchase add-ons such as a whole-house humidifier, filter or GAP filter.
Lower After-Hours Fees
Emergency visits are sometimes unavoidable, but they can get expensive fast. With an HVAC maintenance plan, you can either receive a deep discount on this rate or enjoy no charges for any service calls, including emergency and after-hour visits.
Priority Scheduling
Having an HVAC maintenance plan puts you at the top of the priority list when it comes to making an emergency repair. You can typically expect same-day service, which is great news if your furnace goes out during the middle of winter.
Labor Warranty
How can you be sure your technician has performed a job well done? With a 30-day, 90-day or complete labor warranty – available from different HVAC maintenance plans – you can rest assured you'll be satisfied with the work.
To sign up for an HVAC maintenance plan, please contact Hartman Brothers Heating & Air Conditioning, Inc. in Fort Wayne today.
Our goal is to help educate our customers in New Haven, Indiana and surrounding Fort Wayne area about energy and home comfort issues (specific to HVAC systems). For more information about HVAC maintenance and other HVAC topics, download our free Home Comfort Resource guide.
Credit/Copyright Attribution: "Ivelin Radkov/Shutterstock"