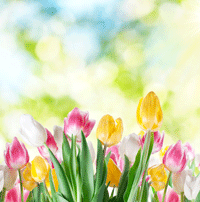 Spring is a great time to get some work done around your Fort Wayne home, including many of those home maintenance tasks you've been putting off over the winter. While you're making your list, make sure to contact your HVAC contractor to get your system ready for spring. Here are some items your professional will likely complete:
Changing the Air Filter
When the air filter in your HVAC system is clogged or dirty, it can cause premature wear and tear, making your system run inefficiently and reducing indoor air quality. Your air filter should be replaced during the system inspection if it's disposable, or cleaned and reinstalled if it's reusable. You should also check the filter yourself at least once a month. Have your HVAC contractor explain the process, if necessary.
Cleaning the Coils
Have your HVAC contractor clean both the indoor and outdoor coils of your HVAC system. Indoor coils can collect household dust, dirt and hair debris, making the heat transfer process inefficient. In contrast, outdoor coils can become clogged with dirt, leaves and other debris. Indoor coils should be vacuumed to remove debris, while outdoor coils should have grass and other debris cleared away with a commercial coil cleaner and water.
Inspecting the HVAC System
Your HVAC contractor should also perform routine maintenance checks on your machine, which typically includes checking the coolant charge, inspecting the coolant lines for leaks, cleaning the blower fan, lubricating moving parts, checking the bearings on the blower motor and inspecting all electrical connections.
Installing a Programmable Thermostat
If you don't have one already, consider asking your HVAC contractor install a programmable thermostat. By using it to automatically raise your home's temperature 10 to 15 degrees during the summer while you're away from home or sleeping, and lowering it during the winter, you can save up to 20 percent on your cooling and heating bills.
For more information on how to prepare your HVAC system for spring, talk to our experts at Hartman Brothers Heating & Air Conditioning, Inc. We proudly serve the Fort Wayne area.
Our goal is to help educate our customers in New Haven, Indiana and surrounding Fort Wayne area about energy and home comfort issues (specific to HVAC systems). For more information about HVAC systems and other HVAC topics, download our free Home Comfort Resource guide.
Credit/Copyright Attribution: "Valentyn Volkov/Shutterstock"