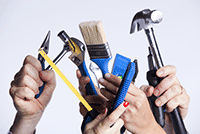 If HVAC maintenance is somehow omitted from your spring maintenance checklist, write it in at the very top. If it made your list, put a star next to it. The HVAC system is a valuable investment in home comfort and the monthly energy budget. Repairing or replacing any component of the cooling and heating systems takes time and expense. Use these HVAC maintenance tips to achieve maximum performance and extend the life of your systems.
HVAC Maintenance 101
Filter: Perhaps no other HVAC system device is as simple, yet as critically important as the furnace filter. The furnace filter catches debris that would otherwise accumulate on components. Dirt accumulation can seize a blower motor, cause the evaporator coil to freeze up and the compressor to overheat. Be sure the check the filter each month in peak seasons.
Registers and grilles: Use the brush extension on your vacuum to clean the supply registers and return grilles each month. Debris-free registers and grilles promote free airflow and enhance IAQ.
Ductwork: Poor duct efficiency accounts for up to 30 percent air conditioning losses in the typical home. Inspect your air ducts in the spring and fall. Look for fallen ducts, damage and leaks. Duct sealing materials include a gooey substance called mastic paste to air seal ducts, and metal tape for seam strength.
Condenser coil: Like the evaporator coil, the condenser coil is a heat exchanger for refrigerant. It's located in the outside cabinet. Use your garden hose to thoroughly spray off the cabinet. Remove vegetation and debris from the grille and from around the cabinet. Remove anything you see that may block airflow to the sides.
Pro maintenance: HVAC maintenance wouldn't be complete without a visit from your technician. Professional maintenance is necessary if you want the best performance from your cooling and heating systems. Schedule service in the spring and fall. You may also consider service plans that give you top priority and peace of mind.
For more tips on how to extend HVAC system life in your Fort Wayne area home, contact the pros at Hartman Brothers Heating & Air Conditioning Inc.
Our goal is to help educate our customers in New Haven, Indiana and surrounding Fort Wayne area about energy and home comfort issues (specific to HVAC systems). For more information about HVAC systems and other HVAC topics, download our free Home Comfort Resource guide.
Credit/Copyright Attribution: "Helder-Almeida/Shutterstock"