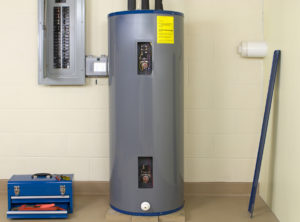 If you have a forced-air HVAC system and a gas-fired water heater like many homes in the Fort Wayne area, you might not think they're related in any way. However, both are essential in your day-to-day life, and they're the two biggest energy consumers in your household. This makes HVAC and water heater maintenance equally important in terms of energy savings and comfort.
Why Water Heater Maintenance Matters
You probably already schedule spring and fall preventive maintenance for your cooling and heating equipment to keep it running reliably and efficiently. Your water heater deserves the same semi-annual treatment, because you rely on it to provide a year-round supply of hot water for daily necessities like showering, bathing, doing laundry and washing dishes.
To avoid inconvenience and unnecessarily high utility bills this summer, make sure your water heater is good operating condition by:
Testing the T&P valve. This essential safety feature is designed to let water escape if pressure inside the tank rises too high. If it's leaking water, is seized up or water doesn't flow out into the attached overflow tube when you test the lever, the valve may need to be replaced.
Assessing the anode rod. Water heaters are equipped with a sacrificial anode rod that's designed to attract corrosion and protect the metal tank. The rod deteriorates over time, so if yours is badly corroded, replace it.
Flushing out sediment. As water heats up inside the tank, some dissolved minerals will form into solids that settle to the bottom. If this sediment is allowed to build up, it can erode the unit's energy efficiency or make it fail prematurely. You can minimize the effects of sediment by draining, flushing and refilling the tank at least once a year.
Checking for exterior rust and corrosion. If you find significant rust development on the outside of the tank, there's a greater risk of leaks or a sudden failure, so have the appliance evaluated by a plumber.
For expert help taking care of HVAC or water heater maintenance in your Fort Wayne home, contact us at Hartman Brothers Heating & Air Conditioning.
Our goal is to help educate our customers in New Haven, Indiana and surrounding Fort Wayne area about energy and home comfort issues (specific to HVAC systems). For more information about other HVAC topics, download our free Home Comfort Guide or call us at 260-376-2961.