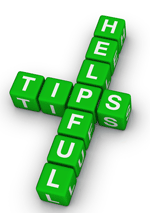 With the arrival of spring comes an increase in allergy symptoms for many Indiana residents. The good news is that there are quite a few ways to make allergy season more bearable, so consider these five tips to boost indoor air quality and keep allergies to a minimum:
Reduce Bathroom Mold. Mold is a major source of allergy issues, and the bathroom is an area in your home most likely to see mold growth. You can reduce bathroom moisture by running a vent fan during and for a few minutes after showering. This will help keep mold at bay. If you start to see mold in your bathroom, wipe down surfaces with a solution of one ounce of bleach and one quart of water.
Upgrade Your Air Filters. The filters in your furnace and air conditioner are your first line of defense against airborne allergens, but cheap fiberglass filters don't do a very good job. Upgrading to filters with a MERV rating of 9 or higher ensures that particles like pollen, pet dander and mold spores don't get through. Read the filter packaging carefully to make sure it's the type that will stop allergens.
Keep the Air Moving. Maintaining good air circulation prevents condensation and reduces mold and mildew throughout your home. You can accomplish this by running ceiling fans, maintaining a gap between your walls and furniture, and opening windows on days when the pollen count isn't too high. Avoid leaving windows open at night, however, since this can aggravate morning allergy symptoms.
Keep Pets Clean. Many people have allergic reactions to pet dander and saliva. The best solution is to eliminate pets or at least keep them outdoors, but this can be tricky for animal lovers with allergy symptoms. If you can't bring yourself to kick Fluffy out of the house, at least give your pets a thorough bath outdoors once a week. It's also wise to keep animals out of your bedroom.
Have Your HVAC Serviced. Dust, mold and a host of other allergens can build up in your furnace, air conditioner and ductwork over time. Annual service eliminates this buildup and keeps your HVAC running at peak efficiency. The best time to have your air conditioner serviced is springtime; that way it will be ready to go once the cooling season gets into full swing.
For more information on indoor air quality and ways to reduce springtime allergies, contact Hartman Brothers Heating and Air Conditioning, Inc. We've been serving the Fort Wayne area since 1963.
Our goal is to help educate our customers about energy and home comfort issues (specific to HVAC systems).  For more information about indoor air quality and other HVAC topics, download our free Home Comfort Resource guide.
Hartman Brothers services New Haven, IN and the surrounding Fort Wayne area. Visit our website to see our special offers and get started today!