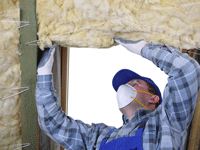 Insulating and sealing your home in late-summer or fall will help ensure that you stay warm and cozy during the cold Indiana winter. Stopping air leaks and adding insulation will not only keep you more comfortable, but also reduce your energy bill by preventing heat loss. Some aspects of keeping your home airtight can be accomplished yourself, but for more complex tasks, or jobs that involve getting into tight or hard-to-reach spaces, seek the help of a qualified professional.
Air leaks – A common source of air leaks are the gaps around windows and doors. Use weatherstripping to seal openings along moveable joints, or caulk or spray foam for other gaps, cracks and openings. Use caulk for gaps less than a quarter-inch and spray foam for larger ones. Wear gloves and safety goggles when applying spray foam and be careful to avoid getting any on your skin or clothing. Use caulk or spray foam to close any gaps in your attic or basement that are created by electrical wiring, pipes, vents or other fixtures.
Insulation – The most likely spot for insulation in your home is the attic. You can choose from among several different types of insulation, but perhaps the simplest to install are fiberglass blankets. Place them in the cavities between the joists, making sure that the insulation rises above the level of the joists. You also have the option of using foam or cellulose insulation, though installing these types of insulation is best left to a professional.
Ductwork – Air can easily escape through holes in ductwork. Use mastic sealant or metal tape, not duct tape, to seal any gaps. Ductwork may also benefit from being insulated. This job is also best left to a qualified technician.
Insulating and sealing a house provides numerous energy-saving and comfort benefits and will return any expense by reducing your energy costs. For more information about keeping your home warm and airtight, along with other issues related to home comfort, contact us at Hartman Brothers Heating & Air Conditioning. We have proudly served the Fort Wayne area since 1963.
Our goal is to help educate our customers in New Haven, Indiana and surrounding Fort Wayne area about energy and home comfort issues (specific to HVAC systems).  For more information about insulating and sealing and other HVAC topics, download our free Home Comfort Resource guide.
Image courtesy of Shutterstock