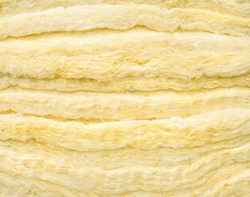 Increasing the amount of insulation in your attic or walls will lower your heating and cooling billsand is the least expensive way to save energy for decades to come. The two most common insulation products used in retrofit situations are fiberglass and cellulose. Fiberglass is made from silicone, while cellulose is made from recycled paper. They share some characteristics, but differ in others that may make a difference in the type you choose.
R-value. The R-value is the measure of the ability of the product to resist heat transfer. The U.S. Department of Energy recommends a minimum R-value of 38 in attics for our climate, which translates to approximately 13 inches.
Cost. Both products cost about the same and are the least expensive insulating materials available.
Type. Both cellulose and fiberglass materials are available as blown-in or batt insulation. Batts are used primarily in new construction because it's easy to place inside wall studs or roll out in the attic. Blown-in is by far the easiest to install in existing walls, along with attics. Installers use a blower to direct it into wall cavities or onto the attic floor.
Moisture. Since cellulose is made from recycled paper, manufacturers have to treat it with borates to reduce its flammability and moisture retention. Fiberglass materials do not require any chemical treatments, however, since the material won't burn. Unlike fiberglass, cellulose retains moisture, though it usually will dry quickly.
Embodied energy. This term refers to the amount of energy and natural resources it takes to manufacture the insulating product. Since cellulose is made entirely from recycled materials and abundant borates, the product has less embodied energy than fiberglass, which may not be made from recycled materials. Fiberglass also requires heat to manufacture, which uses more energy than shredding paper.
Extreme cold. Cellulose tends to retain more warmth when the weather is severely cold, something to consider in our cold-winter location.
If you would like to learn more about insulation and the best kind for your home, please contact us at Hartman Brothers Heating & Air Conditioning. We've provided superior HVAC services for the Fort Wayne area since 1963.
Our goal is to help educate our customers in New Haven, Indiana and surrounding Fort Wayne area about energy and home comfort issues (specific to HVAC systems).  For more information about Insulation and other HVAC topics, download our free Home Comfort Resource guide.
Image courtesy of Shutterstock