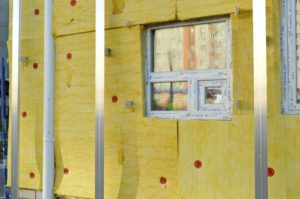 You're probably well aware of the benefits that insulation provides during the heating season. Snug in your warm house during the winter months, you know that without a well-insulated house, you'd freeze and end up with expensive heating bills. Yet, the same dynamic occurs in the summertime if your home isn't properly insulated.
Heat Transfer
Insulation slows the transfer of heat in any direction — from inside to outside in the wintertime, and outside to inside in the summer. Without insulation during the hot months, heat gain will make cooling your home all the more difficult. Your A/C will work harder and longer, wasting energy and stressing parts, and you still won't feel totally comfortable as heat energy continues to move in from outside. In the winter, your heating system is overworked trying to keep ahead of heat loss to the outside.
Insulation Materials
When it come to insulating your home, keep in mind that most insulating materials don't do a good job of stopping airflow. This is why air sealing — with caulk, weatherstripping, or spray foam — is an essential component of home weatherization.
Attic Insulation
When deciding where to upgrade insulation in your home, the attic should be at the top of your list, to slow down both heat gain and heat loss. Over a long summer's day, the sun's relentless pounding on a house's roof can heat a non-insulated, poorly ventilated attic up to 150 degrees. Using proper insulating material will block heat transfer through the roof, as well as keep heat that accumulates in the attic from transferring downward into your living spaces. Both the attic ceiling and floor should be well insulated.
Ensuring a properly insulated attic also pays dividends in the winter, allowing heat to remain in your living spaces rather than seeping up into the attic.
For professional advice on the type and amount of insulation to use in your Fort Wayne-area home, for protection in both summer and winter, please contact us at Hartman Brothers Heating & Air Conditioning.
Our goal is to help educate our customers in New Haven, Indiana and surrounding Fort Wayne area about energy and home comfort issues (specific to HVAC systems). For more information about insulation and other HVAC topics, download our free Home Comfort Guide or call us at 260-376-2961.
Credit/Copyright Attribution: "AKuptsova/pixabay"