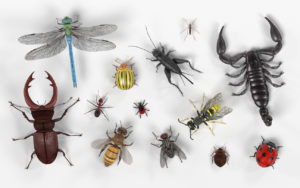 In the summer, bugs get everywhere. They're on your clothes, they're raiding your food... They're even in your HVAC system! And once they're there, they can use the ducts to find their way pretty much anywhere else in your home. So it's important to quash that infestation before it starts. Here are some tips for preventing bugs in your HVAC system.
Find gaps and openings.
Any opening in your home that leads to the outside is a place where bugs might come through. If you have any cracks in your walls or other gaps, have them sealed. Also seal any leaks in your ductwork, with metal tape or mastic sealant. And put mesh screens over all your vents that will let air out while keeping bugs from getting in.
Clean regularly.
Dust and debris will attract insects like crazy. And debris can build up in and around your HVAC system if you neglect it. Whenever you dust your home, be sure to clean the grates on your vents as well. And once a year, remove each grate and wash it thoroughly with soap and water before replacing it.
Change your filter.
There's plenty of buildup of dust and debris in your air filter too. If you don't change it regularly, that dust can spread through the rest of your system, attracting bugs and lowering your indoor air quality. Check the filter every month and replace it when it looks grey and opaque.
Check the unit.
If you have an outdoor unit, check to see if there's any standing water around it, and if there is, get rid of it. A lot of bugs thrive in standing water.
Don't spray!
If you do find bugs in your HVAC system, don't use bug spray or other chemical agents to get rid of them. The harmful chemicals will flow through your ductwork to the rest of your house. Instead, call an exterminator to handle the problem.
To learn more about eliminating bugs in your HVAC systems contact us at Hartman Brothers. We've served the New Haven area's heating and cooling needs since 1983.
Our goal is to help educate our customers in New Haven, Indiana and surrounding Fort Wayne area about energy and home comfort issues (specific to HVAC systems). For more information about other HVAC topics, download our free Home Comfort Guide or call us at 260-376-2961.