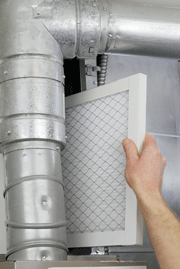 Having an air filter functioning at a high level is crucial if you want your home's HVAC system to function smoothly and effectively. It's a small and simple maintenance job, but is necessary if you want to keep your energy bills down and your comfort level up.
Why Dirty Filters Are Bad
Air filters naturally become dirty over time if they are doing their job and removing particles from the air in your home. Depending on the quality and efficiency level of an HVAC filter, it will remove as many contaminants as possible, including mold spores, dust mites, pollen, pet dander and more. These are particles that can not only lower the efficiency of your HVAC system, but also trigger or exacerbate allergies and breathing issues for home occupants.
When a filter gets dirty, there's less room for it to remove particles from the air. At the same time, it's harder for air to get through since many of the small holes are clogged with contaminants. In order to sustain suitable airflow, your blower motor has to work even harder, which wears out equipment components sooner, and can even lead to system failure, a big problem with an expensive fix.
Changing Your Filter
There isn't one time interval between filter changes for every filter and home situation. Frequency depends on many factors, including how often your HVAC system is operating, the size of your home, the presence of pets, and even nearby construction. You should, however, inspect the air filter at least once per month by taking it out and holding it up to a light. If you can't see through the filter, you need to replace it.
For a standard filter, you can expect to have to change it every 30 to 90 days. Pleated filters typically last in the upper end of this range. Pick replacement filters that are listed as compatible with your system in the owner's manual. Using the wrong filters could result in problems similar to having a dirty filter.
If you need help maintaining your air filter or any other part of your Fort Wayne home's HVAC system, please contact us at Hartman Brothers Heating & Air Conditioning.
Our goal is to help educate our customers in New Haven, Indiana and surrounding Fort Wayne area about energy and home comfort issues (specific to HVAC systems).  For more information about air filters and other HVAC topics, download our free Home Comfort Resource guide.
Image courtesy of Shutterstock