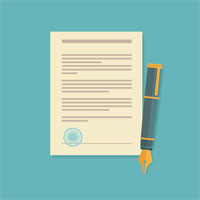 In order to get the most value for the money you spend, many people make as much effort as possible. Between comparison shopping and using coupons at the grocery store to having an app on your smartphone to automatically check for the best gas prices, there are lots of ways to save money today. However, when it comes to your home cooling and heating system, you may not be saving as much money as you think you are.
When you have a new system installed, your HVAC contractor may have offered you a maintenance agreement to go along with your warranty. However, you may have tried to decide whether a maintenance plan or warranty is the better way to go. If you look closely at what each offers, you'll probably come to the decision you actually need both.
A warranty is designed to cover your system only. If repairs are needed, a warranty will cover the costs of parts and maybe even the labor for the repairs, but little else. Whether your unit is covered by the original warranty or you've purchased an extended warranty, those are the only costs covered.
A maintenance plan, on the other hand, means your HVAC company will come out and take care of maintaining your system. Changing air filters, cleaning the main units, inspecting grilles and fans for damage are just a few of the services a maintenance agreement can cover. Other things such as duct cleaning and inspections are usually worth having as a part of your maintenance plan as well.
Warranties can save you hundreds, even thousands of dollars on repairs. A maintenance agreement keeps your system running at peak efficiency which means you may save money on your power bill as well as being as comfortable as possible. It isn't so much whether a maintenance plan or warranty is better, its having a plan in place to cover everything. For those in the New Haven, Indiana area, Hartman Brothers Heating & Air Conditioning Inc. has a maintenance plan that works perfectly with your warranty so you truly get value for your dollar.
Our goal is to help educate our customers in New Haven, Indiana and surrounding Fort Wayne area about energy and home comfort issues (specific to HVAC systems). For more information about maintenance plans and other HVAC topics, download our free Home Comfort Resource guide.
Credit/Copyright Attribution: "venimo/Shutterstock"