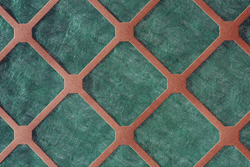 When keeping your electric bills low and your indoor air cleaner in the summer are important, pay attention to your air conditioner filter. While it's the least expensive component inside your cooling system, it's one of the most important. The filter traps the airborne particles that could otherwise wreak havoc on your equipment and drive up energy bills.
The right filter lowers the number of irritants in the air, making your home healthier when pollen loads are at their highest. A clean air conditioner filter also lets enough air pass through so your cooling system runs at its most efficient. Filters carry ratings that help you choose which would work best for your home and equipment. The minimum efficiency reporting value (MERV) system rates filters based on the smallest particles that a filter can trap. The idea is that if it can capture that certain tiny particulate, it also will remove anything larger from your home's air.
For residential use, the MERV scale runs from 1 to 16 with higher ratings indicating smaller and better particle entrapment. In most cases, a filter with a MERV rating from 7-12 offers adequate protection for your equipment and the air you breathe. A MERV 8 filter can trap particles as small as 3 microns, which are many of the smallest particles found in your home; these include pollen, dust mite waste, pet dander and dust.
The lightweight fiberglass filters you find in home centers or grocery stores have ratings up to 4 and won't do much for your home's air quality, but do trap the main particulates that may harm A/C components. A better air conditioner filter is one that's pleated, which means it has more surface area to capture airborne particles as well as maintain system airflow.
Before you switch your filter to a higher rated filter, be sure that your blower can handle it. Denser filters with higher MERV ratings may slow the airflow through the blower, which will reduce efficiency and harm your equipment as much as a dirty filter. Concerns about airflow restrictions usually occur with MERV 13-16 filters.
Your A/C's manual may tell you the maximum value you can use for your air conditioner filter, or you can contact Hartman Brothers Heating & Air Conditioning to learn more. We've provided exceptional HVAC services for the Fort Wayne area since 1963.
Our goal is to help educate our customers in New Haven, Indiana and surrounding Fort Wayne area about energy and home comfort issues (specific to HVAC systems).  For more information about MERV ratings  and other HVAC topics, download our free Home Comfort Resource guide.
Image courtesy of Shutterstock