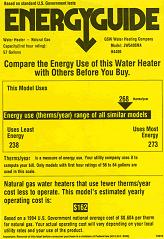 When you're a homeowner in need of a new piece of heating and cooling equipment, sometimes the range of options can be overwhelming. The Energy Star Most Efficient label can make this chore a lot easier, while guaranteeing that you're buying both energy efficiency and solid performance.
What is the Energy Star Most Efficient label? 
You're probably already familiar with the Energy Star label, which for decades has helped consumers make informed decisions regarding energy-efficient appliances, be it a television, washer/dryer or piece of heating or cooling equipment. While this federal program has been a big help to homeowners, too many models in recent years have been able to achieve the required standards needed to earn the label. This made finding the best of the best more difficult than ever.
The new Energy Star label was designed to fix the problem 
To help once again identify the best energy-saving appliances and products, the Energy Star Most Efficient label was created. Don't get us wrong. The original program has been a grand success, as confirmed by the proliferation of qualifying products. But the Most Efficient label will help set apart the appliances that rise above the pack, making it even easier for consumers to immediately identify the best units for their homes. And with Energy Star now deciding which models earn the new label (rather than the manufacturers, as it has been in the past), you can be sure that you're getting the very best energy efficiency.
Stricter criteria now being used
When you shop for a heating or cooling appliance with the Most Efficient label, you'll get the most energy-efficient choices available. For furnaces, this means that your new equipment will have an AFUE (annual fuel utilization efficiency) rating of 97 percent or higher. Or, if you're in the market for an air-source heat pump, you'll be treated to a minimum of 65,000 Btu/h (British thermal unit per hour).
For more expert advice about the Energy Star Most Efficient label, or for other questions relating to home comfort, please contact us at Hartman Brothers Heating & Cooling, Inc. We have been serving Fort Wayne and the surrounding area since 1963.
Our goal is to help educate our customers in New Haven, Indiana and surrounding Fort Wayne area about energy and home comfort issues (specific to HVAC systems).  For more information about the Most Efficient Label and other HVAC topics, download our free Home Comfort Resource guide.
Image courtesy of Shutterstock