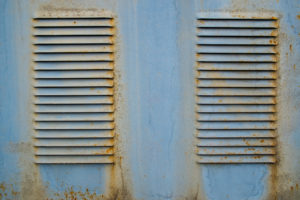 Painting your air conditioner may improve its aesthetic appeal, but it could cause other issues if it's not done carefully. Basic surface prep, followed by a couple of coats of spray paint may restore a pleasing appearance to an aging unit. However, it's important to realize that painting your air conditioner won't turn back the hands of time when it comes to the system's cooling performance, efficiency or reliability.
New Paint, Old Parts
External signs of an aging A/C like deteriorating paint should be a reminder that critical internal components are accumulating wear and tear, too, including the expensive system compressor, coils and other parts. This may manifest as frequent repairs, higher monthly costs as the unit runs less efficiently, or problems staying comfortably cool on hot days. In that case, replacement—instead of repainting—is a better option for the long run. A new air conditioner comes with higher energy-efficiency specs, superior cooling performance and a comprehensive warranty. You don't get these benefits from a new coat of paint.
Air Conditioner Painting Basics
Turn off power to the unit at the breaker box or outdoor disconnect switch.
Remove visible rust with a wire brush or light grade sandpaper.
Clean the surface of the unit with hose, water and a stiff brush to Remove dirt, bird droppings, tree sap and other contaminates.
Allow the unit to dry completely.
Cover refrigerant line and electrical connections with masking tape.
Most types of enamel spray paint suitable for metal surfaces should be suitable for air conditioner housings if the surface is properly prepared. Products specifically formulated to paint appliances are particularly appropriate.
Take special precautions when painting. Don't spray paint into air ventilation slats in the side panels or down through the fan opening on top of the unit. Overspray entering the interior of the housing may coat the surfaces of the condenser coil, inhibiting proper heat dispersal. It's preferable to remove the side panels and top unit, then paint these parts separately.
For advice about painting your air conditioner—or replacing it for a more permanent and effective solution—contact the cooling professionals at Hartman Brothers.