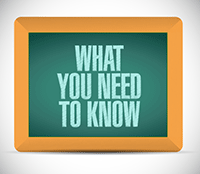 During the cooling months, your air conditioner probably uses more energy than any other system in your Fort Wayne home. Spring maintenance is important to ensure all parts are working correctly. It's also a good idea to familiarize yourself with air conditioner parts to understand energy usage and home cooling.
The Parts of Your Air Conditioner
Thermostat: The thermostat monitors temperature, and signals the air conditioner to engage when room temperature rises a few degrees above the setting. If you still use a mercury-filled manual thermostat, change to a programmable thermostat, a convenient way to save energy with automatic temperature changes.
Blower motor: When the air conditioner is activated, the blower motor ramps up to rotate the fan.
Fan: A split-system air conditioner has two fans. One is located inside the home. The second fan is located in the condenser/compressor cabinet outside the home. The fans pull airflow across the evaporator and condenser coils.
Furnace filter: The furnace filter is a simple, yet essential device in the air conditioning system. It protects A/C parts from the damage and energy loss that dirt accumulation can cause. It's very important to stay on top of filter changes. Consider upgrading to a high-efficiency filter for maximum HVAC performance.
Evaporator and condenser coils: The evaporator and condenser coils are heat exchangers for cold and hot refrigerant. The fan pulls airflow across the indoor evaporator coil. The cold refrigerant in the coil removes heat and moisture from the air. The outdoor fan pulls outside air across the hot condenser coil, which releases heat.
Compressor: If you're wondering why your air conditioner is so noisy, it's the compressor. The compressor receives refrigerant from the evaporator. The refrigerant is squeezed to prepare it for heat release inside the condenser coil.
Regular professional HVAC maintenance is vital to keep parts clean and in good working order. To learn more about air conditioner parts and operation, or to schedule maintenance for your Fort Wayne area home, contact the professionals at Hartman Brothers Heating & Air Conditioning Inc.
Our goal is to help educate our customers in New Haven, Indiana and surrounding Fort Wayne area about energy and home comfort issues (specific to HVAC systems). For more information about air conditioners and other HVAC topics, download our free Home Comfort Resource guide.
Credit/Copyright Attribution: "alexmillos/Shutterstock"