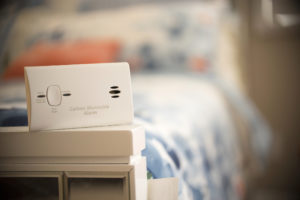 Anytime a gas leak happens in your home, it's always an occasion for alarm. It only takes a single spark for even a minor leak to have explosive consequences. As you rely on your gas furnace for warmth this winter, it's important to know how to detect gas leaks and prevent them from happening in the future. The following offers plenty of good tips for gas leak detection and prevention.
Detection Tips
Your sense of sight, smell and sound are the best weapons against an ongoing gas leak. Here's how you can put three of your five senses to good use:
Look - Common signs of gas leaks include dead or dying vegetation, dirt or water being blown around or pools of liquid near the site of the leak.
Listen - Unusual hissing, whistling or roaring sounds coming from your furnace or any other gas line can indicate a leak.
Smell - Natural gas and propane providers add mercaptan, a chemical additive gives the otherwise odorless gas a distinctive smell. Mercaptan mimics an odor similar to rotten eggs, making gas leaks easier to detect.
If you do detect a gas leak, exit the building immediately. Don't turn off your lights or use any electronic devices, as even the smallest spark can have explosive consequences. Once you're out of harm's way, call 911 and report the leak to your local gas company.
Prevention Tips
Prevention is always the best policy when it comes to keeping your home safe. Here are a few things you can do to prevent furnace gas leaks:
Have a seasoned professional inspect your furnace on a regular basis.
Have your gas lines professionally tested for any signs of leaks, corrosion or damage.
Replace old or damaged gas lines at the earliest opportunity to prevent leaks and other problems.
To learn more about keeping your home safe this winter, turn to the experts at Hartman Brothers Heating and Air Conditioning. Our goal is to provide reliable HVAC service throughout Fort Wayne.
Our goal is to help educate our customers in New Haven, Indiana and surrounding Fort Wayne area about energy and home comfort issues (specific to HVAC systems). For more information about other HVAC topics, download our free Home Comfort Guide or call us at 260-376-2961.