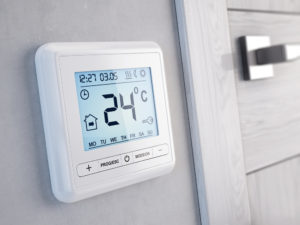 Of all the tasks you need to do to get your home ready for Fort Wayne's cold winter, resetting the programmable thermostat is one of the most important. Done right, this job will keep you comfortable and control your energy bills all season long.
Selecting Comfortable, Energy-Saving Temperatures
For the period when you're home and awake, set your thermostat for around 68 degrees. This is a comfortable room temperature for most people. To save energy, you'll want to choose lower temperatures for the periods when you're out of the house or in bed asleep.
For every degree you lower your thermostat setting over an 8-hour period, you could save one to three percent on your heating bill. Aim to turn yours down by three to seven degrees, depending on your usual preferred temperature. Never lower your thermostat temperature below 55 degrees in winter, though, or your pipes could freeze.
Using Your Thermostat Efficiently
Your thermostat's override function lets you select a different temperature temporarily without clearing your programmed settings. While this helps you stay comfortable when a sudden cold front blows in, it negates your energy savings when you use it too often. If you're overriding several times a week, you'll save more by resetting the programmable thermostat for more pleasing temperatures.
Us the "hold" or "vacation" setting to select one temperature when you plan to be away from home for more than a day, but want to return to your normal programming when you return.
For maximum savings, set your energy-saving temperatures for at least 8 hours at a time. Avoid selecting extreme temperatures. Setting your thermostat up to 80 won't get your house warm any faster. If it's important to have your home a certain temperature at a certain time, upgrade to a new thermostat with an "adaptive intelligent recovery" or "smart recovery" mode.
For pro tips on resetting the programmable thermostat and keeping your heating bills low, get in touch with us at Hartman Brothers Heating & Air Conditioning in the Fort Wayne area.
Our goal is to help educate our customers in New Haven, Indiana and surrounding Fort Wayne area about energy and home comfort issues (specific to HVAC systems). For more information about thermostats and other HVAC topics, download our free Home Comfort Guide or call us at 260-376-2961.
Credit/Copyright Attribution: "sashkin/Shutterstock"