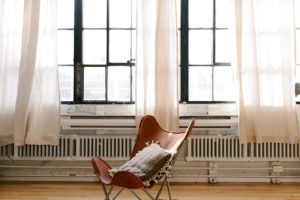 As a resourceful homeowner, you've probably thought of different ways to save energy and keep your Fort Wayne home comfortable. Professional HVAC maintenance is a good idea each spring and fall, and so is sealing the air leaks in your home's envelope. If you find you still can't keep your home comfort up and your energy bills down, maybe it's time to take a second glance at window treatments.
Window Awnings
Whether you're going for a contemporary design or a bold new look, awnings have you covered. Much like a shade tree can ease heat gain on sun-facing rooms, awnings provide shading from direct sunlight and can significantly reduce heat gain.
Modern awnings are made of more durable synthetic materials, such as acrylic and polyvinyl laminates, that are water, mold and mildew resistant. Moreover, you can retract your awnings during the heating months to allow sunlight to warm your home.
Blinds
Custom blinds may beautify your home and reduce heat gain from solar radiation by up to 45 percent. Another good quality of using these window treatments is that they may be adjusted to reduce or increase the amount of sun you want at any time. Blinds also produce natural lighting when the slats are adjusted at the proper angle to reflect light onto the ceiling.
Draperies
Design your draperies for beauty and energy efficiency. It's relatively simple to do. The beauty component, of course, is left up to your designer eye. Following are a few hanging tips to boost comfort and lower your energy bills:
Hang your drapes close to the window.
The drapes should fall flush to the window sill or floor.
Layer your drapes, which provides better efficiency and more privacy.
Insulated drapes may substantially reduce heat gain during the summer and heat loss during the winter.
The bottom line is that window treatments can treat your comfort and energy budget right. To learn more efficiency and comfort tips for your Fort Wayne home, contact the experts at Hartman Brothers Heating & Air Conditioning today!
Our goal is to help educate our customers in New Haven, Indiana and surrounding Fort Wayne area about energy and home comfort issues (specific to HVAC systems). For more information about window treatments and other HVAC topics, download our free Home Comfort Guide or call us at 260-376-2961.
Credit/Copyright Attribution: "Unsplash/Pixabay"