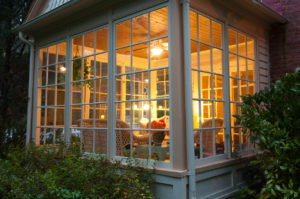 If your sunroom is simply too hot to occupy during the summer, why not consider different sunroom HVAC solutions to make it cooler. There are practical ways to bring air conditioning to this room that are effective and affordable.
Extending the existing system.
If your current equipment is large enough to handle the sunroom, your HVAC contractor might be able to add ductwork to reach that space. The HVAC pro will have to visit your home and complete a load calculation. If the sunroom is reasonably well insulated and has energy efficient windows, it will need less cooling and your HVAC system might be able to handle the extra square footage.
Installing a ductless mini split.
If your existing system doesn't have enough capacity, consider a ductless mini split air conditioner or heat pump. These HVAC appliances are ideal for cooling individual spaces because they're energy efficient, easy to install and quiet.
A ductless mini split heat pump will provide comfortable, high efficiency wintertime heat. This type of HVAC appliance is something to consider if you are currently heating the sunroom with electric resistance or space heaters.
Window or wall air conditioners.
Depending on the size and energy efficiency, you might be able to use one of these smaller units for a sunroom HVAC solution. Their relatively inexpensive and easy to install and will provide adequate cooling as long as they're correctly sized for the space.
Portable air conditioners.
Unlike window or wall air conditioners, a portable unit can be moved anywhere it's needed. You may need it for supplemental cooling for a guest who likes it cooler or to get through an unexpected breakdown of your central air conditioner. The only disadvantage that portable units have over window or wall A/Cs is that it has to be vented to the outdoors to exhaust the hot air and condensation from the room it's cooling.
Each of these sunroom HVAC options has advantages. To discuss them in greater detail, contact the pros at Hartman Brothers Heating & Air Conditioning, serving Fort Wayne homeowners.
Our goal is to help educate our customers in New Haven, Indiana and surrounding Fort Wayne area about energy and home comfort issues (specific to HVAC systems). For more information about other HVAC topics, download our free Home Comfort Guide or call us at 260-376-2961.