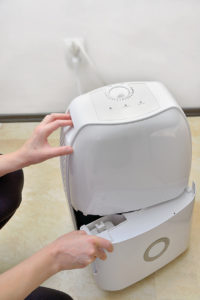 A portable A/C makes home cooling mobile. These units are mounted on wheels for transport and sized to fit through interior doors in residences so they may be easily re-positioned anywhere in the house. Most models can serve as both temporary spot coolers bringing quick comfort to any space in the house, or adapt to a more stationary role in a dedicated room, substituting for a conventional window air conditioner.
Here's a closer look at some of the features of a portable A/C.
Efficient one-room cooling.
When you want to cool a single room fast—without the unnecessary expense of cooling the entire house—a portable air conditioner is a viable alternative to a window unit. Installation of a venting kit in a window is still usually required to adapt the vent hose that exhausts hot air produced by the portable unit. However, this is typically far less labor-intensive and conspicuous than a window air conditioner.
Individualized temperature control.
If one certain room requires a much cooler or warmer environment, a portable unit does the job without altering the temperature throughout the rest of the house.
Variety of BTU capacity.
Portable air conditioners are available in models with a range of cooling capacity to effectively cool most spaces in a home. Typically, new units are available with BTU capacity suitable to accommodate rooms ranging from less than 250 square feet up to more than 500 square feet.
Preserving window availability.
A typical window A/C obstructs the view through the window, blocks natural outdoor light and prevents the window from opening to let in fresh air. Utilizing a portable unit, instead, frees the window. Installation of the low-profile portable air conditioner vent kit in a window occupies far less window space, allows more outdoor light as well as permitting the window to be opened for fresh air.
For more about the advantages as well as the limitations of a portable A/C, contact the cooling experts at Hartman Brothers.
Our goal is to help educate our customers in New Haven, Indiana and surrounding Fort Wayne area about energy and home comfort issues (specific to HVAC systems). For more information about other HVAC topics, download our free Home Comfort Guide or call us at 260-376-2961.