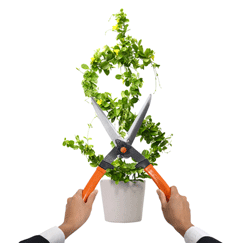 Summer is the time for outdoor grilling, vacations and fun. Summer is also the time for high cooling bills for many homeowners. If you would like a break from last year's high cooling costs, take your energy-saving efforts a step further with these tips.
Tips to Lower Cooling Costs
Thermostat settings: When you're at home you certainly want to be comfortable without using too much energy. Energy Star suggests setting the thermostat to 78 degrees when the home is occupied. Turn up the thermostat seven to 15 degrees during work or sleep hours.
Insulation: Take a look in the attic. Can you see the tops of joists? If you can, you probably need more insulation. Fiberglass rolls install easily. Loose fill fiberglass and cellulose insulation work well in wall cavities and difficult-to-reach attic spaces.
Solar heat gain: Solar heat gain through windows can quickly heat a room. Use window treatments to control the amount of sunlight into the home.
Ductwork: Air ducts don't receive much attention, but poor duct design can break an energy budget through air leaks and missing insulation. Inspect your ducts for fallen connections, leaks, damage and insulation. If you're sealing ducts, be sure to use heat-resistant metal tape. So called "duct" tape fails quickly, and isn't actually designed for ducts.
Ceiling fans: Ceiling fans can make a room feel four degrees cooler. Save cooling costs by turning up the thermostat a few degrees and turning on your ceiling fans. Ceiling fans should direct airflow toward the floor in the cooling months, and pull airflow up to the ceiling in the heating months.
Energy Star: Is your cooling system 10 years old or more? When it's time for you to upgrade the cooling equipment, look for systems that are certified Energy Star.
Outdoor cooking: Cooking in the kitchen generates heat, humidity and higher cooling bills to stay comfortable. Enjoy outdoor grilling often this summer, and lower cooling bills.
To learn more about these tips to lower cooling costs in your Fort Wayne home, please contact Hartman Brothers Heating & Air Conditioning Inc today.
Our goal is to help educate our customers in New Haven, Indiana and surrounding Fort Wayne area about energy and home comfort issues (specific to HVAC systems). For more information about cooling costs and other HVAC topics, download our free Home Comfort Resource guide.
Credit/Copyright Attribution: "SCOTTCHAN/Shutterstock"