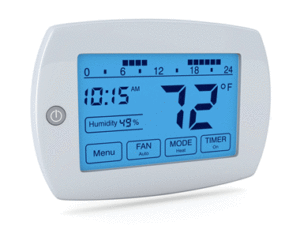 Although you probably don't think about it much, you depend on your thermostat for a lot: you expect it to read the temperature in your house, turn your HVAC system on and off as needed, and keep your home to the temperature you set.
Most of all, you expect the thermostat temperature to be accurate. If it reads 74, you expect your house to be right around 74 degrees, not 64 or 84. So what do you do when your thermostat temperature is obviously wrong?
A temperature misreading is usually due to one of a few different causes. It may be that something is messing up the sensors, or it may be that the thermostat itself is old and giving out.
To figure out which type of thermostat temperature problem you have, you can try these simple DIY fixes. Either they'll solve your problem or help you narrow it down to one that requires a service call.
Step 1: Turn off your system.
Step 2: Remove the cover. On most models, pull the cover straight out. There may be a release button you need to press first. Do be cautious since it's possible to break the thermostat if you use too much force.
Note: At this point, you can see if you have an electrical thermostat (with metal sensors) or a mechanical one (with a tube of mercury).
Step 3: Change the batteries if any are installed.
Step 4: For electrical thermostats, gently dust the metal sensors and the rest of the interior to make sure there's nothing blocking a correct temperature read.
Step 5: For mechanical thermostats, check to be sure the thermostat is level. The mercury must be level to read temperatures correctly.
Step 6: Close the cover, turn your HVAC system on, and find someplace comfortable to wait for a few hours.
If your temperature reaches and stays at the point it should, your problem is solved. If not, it's time to call in a professional.
For help with thermostat temperature problems or other HVAC concerns in the Fort Wayne area, contact Hartman Brothers Heating & Air Conditioning.
Our goal is to help educate our customers in New Haven, Indiana and surrounding Fort Wayne area about energy and home comfort issues (specific to HVAC systems). For more information about thermostat temperature reading and other HVAC topics, download our free Home Comfort Guide or call us at 260-376-2961.
Credit/Copyright Attribution: "lucadp/Shutterstock"