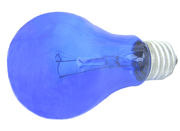 Installing a UV light system inside your home's ductwork is a proven method for destroying bacteria, viruses and mold. Otherwise these microorganisms may otherwise spread and proliferate, causing illnesses and exacerbating respiratory issues for you and your loved ones.
A UV light system emits low levels of radiation to effectively damage the DNA of bacteria and other organic contaminants, preventing them from infecting humans, reproducing or dividing. UV lights are effective at killing mold, which is important in our often humid area, where the average relative humidity is around 79 percent – excellent conditions for mold growth. While a UV light system is deadly to organic contaminants, it is safe for humans and pets.
UV light systems get results

A six-year study by the University of Colorado-Boulder, under the umbrella of the Centers for Disease Control and Prevention (CDC), found that UV light systems helped prevent bacteria infections such as tuberculosis in health-care workers, and potentially other employees in environments exposed to dangerous bacteria and viruses (e.g. nursing homes, shelters and correctional facilities).
The study showed that UV lights are most effective when used in conjunction with ventilation, air purification and humidity control. For instance:
Use high-efficiency air filters to capture and remove contaminants from the air, such as pollen, pet dander, dust-mite parts, humidifier dust, sneeze droplets, aerosols and even auto emissions from attached garages. You may also want to consider HEPA filtration for best air-filtering results. Remember to change your filter regularly.
Ventilation is necessary for healthy indoor air. In fact, the federal EPA states that indoor air may be substantially more polluted than city air. On days when cooling and heating isn't necessary, turn your HVAC system on in fan mode for ventilation.
As mentioned, our area experiences high levels of relative humidity. Consider installing a whole-house dehumidifier. Optimal relative humidity levels provide supreme home comfort, help lower cooling costs, and inhibit the growth of mold and many bacteria and viruses.
Contact Hartman Brothers Heating & Air Conditioning today to improve the air quality in your Fort Wayne-area home.
Our goal is to help educate our customers in New Haven, Indiana and surrounding Fort Wayne area about energy and home comfort issues (specific to HVAC systems).  For more information about UV light systems and other HVAC topics, download our free Home Comfort Resource guide.
Image courtesy of Shutterstock