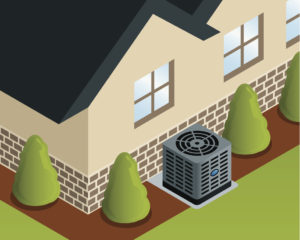 Your HVAC system contains some of the most costly and essential equipment in your home, so it's normal to want to know how long the components should last.
Generally speaking, HVAC components have lifespans of 10 to 30 years, but their actual service life varies depending on the type of equipment:
Oil or gas furnaces typically last for 10 to 30 years under normal conditions, while boilers have a longer expected lifespan of 20-35 years. Oftentimes, its a corroded or cracked heat exchanger that ends the life of a furnace or boiler, since this is the most critically-important and expensive component.
Air conditioners can last for 15 or 20 years, and often, they need replacement due to a serious issue like a compressor failure or a badly leaking condenser coil.
Heat pumps and mini-splits provide both heating and cooling, and this year-round use gives them an expected service life of 10 to 20 years.
Additional Factors Impact HVAC Component Lifespan
While equipment type plays a large role in the expected lifespan of your HVAC equipment, these other factors directly affect whether it reaches its full, useful service life too:
Component quality. Poorly built, "cheap" equipment doesn't last as long, and may have defects in design or construction that causes it to fail prematurely.
Proper sizing and installation. To run reliably over a long service life, HVAC components must be sized accurately to match your home, and installed correctly to the manufacturer's specifications.
Ongoing maintenance. As with any other kind of mechanical equipment, HVAC components perform better, run more reliably and last longer when they receive routine preventive care and regular maintenance.
How to Maximize Your HVAC Lifespan
Whether you're caring for existing equipment, or you're having a new HVAC system installed, you can minimize issues that shorten its lifespan by:
Hiring a reputable HVAC pro who'll size new equipment using Manuals S, J and D, and install it using industry best practices.
Scheduling twice-yearly professional inspections, cleanings and tuneups.
For expert help determining the HVAC lifespan of your Fort Wayne home's equipment, contact us at Hartman Brothers Heating & Air Conditioning.
Our goal is to help educate our customers in New Haven, Indiana and surrounding Fort Wayne area about energy and home comfort issues (specific to HVAC systems). For more information about other HVAC topics, download our free Home Comfort Guide or call us at 260-376-2961.