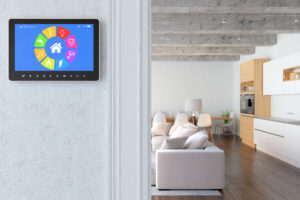 If you already have a programmable thermostat, you may think you're enjoying the latest advancements in thermostat technology. However, there's another step up from being able to program your thermostat, which is the ability to program it from anywhere, anytime. Why does this matter, you may ask? Once you realize why we love smart thermostats, you'll love them, too!
Remote programming: The biggest draw of a smart thermostat is the ability to monitor and change the temperature in your home from anywhere. Did you forget to turn down the air conditioner before leaving on vacation? Do you want to make sure the kids don't fiddle with the settings while you're at work? A Wi-Fi connected smart thermostat eliminates the stress.
"Learning" behavior: While you can program a smart thermostat according to your schedule, some models have motion sensors and "learn" your needs based on when people are home. This makes optimizing your energy use a hassle-free process.
Energy usage reports: Instead of blindly paying your utility bills each month, a smart thermostat gives you access to energy usage data in the form of monthly reports. With this information, you can determine where to cut back.
Zoning capabilities: With the addition of a few sensors in specific rooms and dampers in the ductwork, most smart thermostats can provide zoning. This is when you heat and cool only part of your home at a time to save energy.
Smart home compatibility: If you have a Google Home or Amazon Alexa-enabled device, you can control your smart thermostat with your voice, set up routines, and control compatible smart humidifiers and air purifiers through the thermostat.
Lower energy bills: All of these features amount to one overarching benefit: reducing your monthly energy costs. Most smart thermostats predict savings of between 10 and 25 percent on heating and cooling bills. As a result, the investment to upgrade your existing thermostat pays for itself very quickly.
To learn more about the benefits of smart thermostats, please contact Hartman Brothers Heating & Air Conditioning. We're the trusted source for quality HVAC solutions in Northeast Indiana.
Our goal is to help educate our customers in New Haven, Indiana and surrounding Fort Wayne area about energy and home comfort issues (specific to HVAC systems). For more information about other HVAC topics, download our free Home Comfort Guide or call us at 260-376-2961.