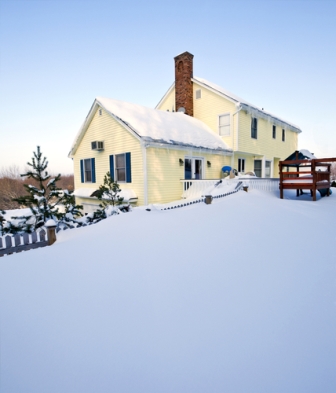 Winterizing your home will not only help eliminate those uncomfortable drafts, it can also save you money. Winters in Indiana can be pretty severe, but if you're prepared you can keep your family safe and comfortable all season long. Fortunately, there are several cost-effective steps you can take to prepare your home for the cold weather in the Allen County area.
When winterizing your home, be sure to include as many of the following steps as possible:
Seal air leaks – When heated air escapes your home through leaks in windows, doors, ductwork and other areas, your heating system has to work harder. This means that more energy is consumed and more money comes out of your pocket. Air leaks can also make your home feel uncomfortable, causing you to raise the thermostat and spend even more. Install weatherstripping or caulk around windows, doors and other sources of leaks, and check ductwork for cracks, gaps and poor connections.
Add more insulation – One of the biggest sources of heat loss is through an attic that's not sufficiently insulated. Adding more insulation to your attic, crawl space and other easily accessible areas can reduce this heat transfer and keep more heated air in your living spaces. This means that your furnace doesn't have to work as hard to maintain your thermostat settings, keeping you more cozy and consuming less energy.
Schedule a heating system tune-up – It's easy to ignore your furnace when it's working properly, but if you want to keep it that way, it's important to schedule annual maintenance. Tuning up your system now will keep it functioning properly all winter long so you don't have to worry about equipment failure and expensive emergency service. A fall tune-up will also ensure that your furnace operates efficiently, which means lower monthly heating bills.
For more expert advice on winterizing your home, contact Hartman Brothers Heating & Air Conditioning any time. For installation or service in the Fort Wayne area, schedule an appointment online or give us a call. We can help you save money this winter and keep you warm all season long.
Our goal is to help educate our customers in New Haven, Indiana and surrounding Fort Wayne area about energy and home comfort issues (specific to HVAC systems).  For more information about winterizing your home and other HVAC topics, download our free Home Comfort Resource guide.
Image courtesy of Shutterstock