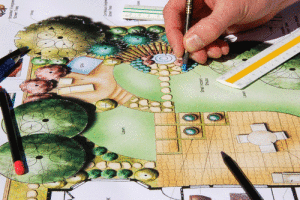 That big, clunky air conditioner condenser/compressor sitting in your backyard certainly can be at odds with your landscaping plans. Chances are, though, it's located in the optimum place to do its job so don't even think about moving it.
So how can you realize your landscaping dreams while working around the A/C? Some landscaping trends, such as lawn-free xeriscaping, growing fruits and vegetables on trellises to hide the unit or adding artistic touches to draw the eye away from the A/C are all great ways to work with the unit where it is and make it less obtrusive. Here's how xeriscaping can work in your yard.
Xeriscaping
First, it's xeriscaping, not "zero-scaping." Xeri means dry, and to xeriscape means to plant in a way that cuts moisture requirements.
Most lawn grasses need an inordinate amount of water to stay green and healthy. Ditching the lawn in favor of drought-tolerant grasses or ground covers, perennials or low-growing, drought-tolerant shrubs planted around the unit can help mask it while lowering your water bill. What's more, eliminating mowing reduces the chance of grass debris and dirt being drawn into the intake.
Choosing Plants
Research your plant choices carefully:
Don't plant anything that sheds fibrous seeds that might clog the intake.
Think about how wide or tall that shrub is going to grow before you plant it. Some shrubs can be trimmed to maintain a smaller shape, but others will look strange if you cut them back too much. Nurseries can advise you if a plant is available in a compact variety. Whatever you choose should be planted so there's at least 2 feet of space for unrestricted airflow around the unit.
Avoid plants with spiky leaves or thorns that will scratch the HVAC technician who has to work on the compressor.
Also, if you xeriscape with rocks or gravel to replace the lawn, beware of weed-eating and kicking up stones that might damage the A/C.
For more on how your xeriscaping plans might impact your A/C unit, contact Hartman Brothers Heating and Air Conditioning of Fort Wayne.
Our goal is to help educate our customers in New Haven, Indiana and surrounding Fort Wayne area about energy and home comfort issues (specific to HVAC systems). For more information about xeriscaping and other HVAC topics, download our free Home Comfort Guide or call us at 260-376-2961.
Credit/Copyright Attribution: "Scott E. Feuer/Shutterstock"