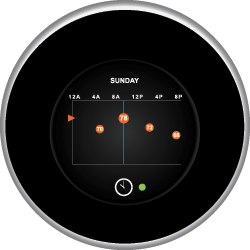 Are you still regulating temperatures in your home with a first-generation programmable thermostat, or heaven forbid, an old manual model? If so, consider upgrading to a modern Wi-Fi thermostat. You'll save money on heating and cooling, while benefiting from advanced features such as energy reports and air filter change alerts. Learn how a Wi-Fi thermostat can deliver valuable benefits to your household.
Better programming — Ideally, a programmable thermostat should allow you to schedule a different energy-saving program every day of the week. This basic function of Wi-Fi thermostats gives them a big advantage over old-school programmable models, which limited the homeowner to the same program of temperature changes every day, or at best, one program for the five weekdays and a different one for the weekend.
Remote programming — Wireless technology means you can program your thermostat from a remote location with a smart-phone app, tablet or computer, as long as it's connected to a wireless network. If you find out you're getting off work three hours early on a February afternoon, you can signal your Wi-Fi thermostat to turn up the heat before you get home. Likewise, you can save on energy by signaling the thermostat that you'll be a few hours late the next evening. It won't crank up the heat till shortly before you arrive home.
Advanced features — Some smart thermostats will alert the homeowner when the air filter needs to be changed or humidity control needs to be adjusted. Some will even churn out reports on your energy use, information that's invaluable if you're serious about saving energy.
Adaptive technology — This cutting-edge technology allows the thermostat to adapt to your climate-control habits and preferences, cutting down on the amount of interaction you have with the thermostat. It will anticipate your temperature habits and preferences, based on past behavior.
Many options — With Wi-Fi thermostats coming in a variety of prices and types. You should be able to find one that matches your budget and needs.
To discuss installing a smart Wi-Fi thermostat in your Fort Wayne area home, please contact us at Hartman Brothers Heating & Air Conditioning.
Our goal is to help educate our customers in New Haven, Indiana and surrounding Fort Wayne area about energy and home comfort issues (specific to HVAC systems). For more information about other HVAC topics, download our free Home Comfort Guide or call us at 260-376-2961.
Credit/Copyright Attribution: "Constantine-Pankin/Shutterstock"